Ulsterheart Chapter 3
Argel Millenium
Pages 67 to 72
Chapter 3 begins on page 60
Page 67
In view of the great flexibility we have noticed in the spelling of Kerog's name, it is at least a happy co-incidence that the Norman Knight who removed Kerog's crozier should bear the name Courcy.
Thirteen years later the famous British historian Gerald, son of William Barry of Pembroke visited Llangurig in the heart of Wales. In St. Harmon's Church nearby he saw the staff of Kerog—covered in gold and silver. Locals told Gerald it was used as a charm to heal swellings.
Back at Argel Kerog, his original foundation also became a place of pilgrimage—especially for people with eye trouble. The spring well nearby had a reputation for healing sore eyes. Its association with this part of the anatomy could derive from the fact that the Founder was a Visionary. Kerog seems to have escaped again during the 3 years of devastation that followed Edward Brace's arrival from Scotland in 1315. Indeed it was a local man who invited Brace to come over to Ireland, and drive the Normans out.34 He was King Donald II (1283-1325) who ruled Ulster from Genan's Fort (Dungannon). But plagues wrought more havoc than Brace—the worst in 1361. Then from 1364-70 Kerog must have often been in the firing line in the ruinous Civil War between the Gaelic Chiefs of Ulster—O Donnel the family that dominated Donegal (Tyr Connel) and O Neill the family that dominated Tyr Owen (The land of Owen).
ARTHUR'S CHURCH
Kerog escaped the attention of Thorgestr in 832, and of de Courcy in 1177. It was not so fortunate when another Norman Knight marched north from Dublin in the year 1380. The Annals of Clonmacnoise tell us that in that year Mortimer, Earl of March led an army into Ulster and destroyed many buildings— including Errigle Kerog. If it was Kerog's original structure that Mortimer destroyed—and Wallace Taylor thought it was—then the present structure might be referred to as Kerog II. This second Church on the Argel was probably constructed
---
Page 68
EAST WALL OF KEROG II
(Arthur's Church)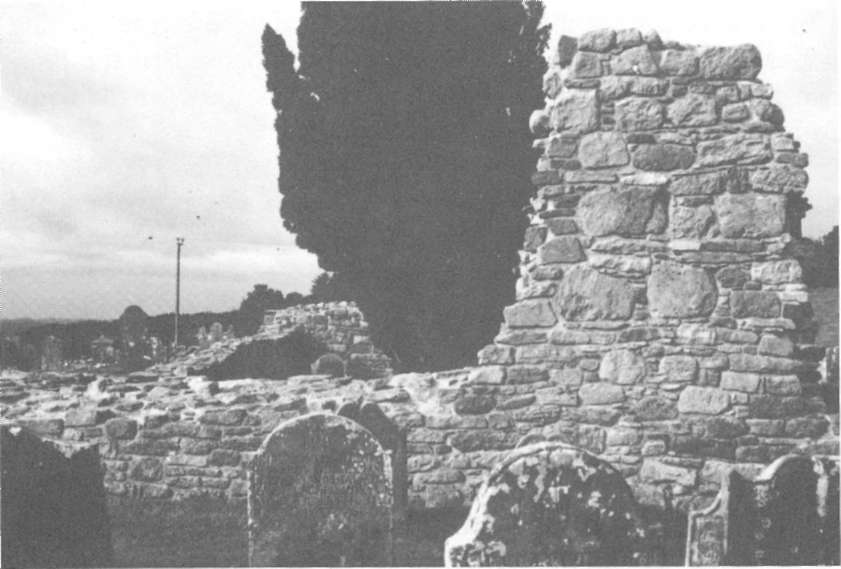 soon after Mortimer's attack—say about 1383. Its first Rector was a Campbell, at the very time when a slightly older Campbell was doing extensive building down the Valley. He was Arthur Campbell, Bishop of Clogher, and kinsman of Kerog's first Rector. If he was responsible for Kerog's reconstruction, it might explain the nickname 'Arthur's Church'. Its internal dimensions are 60 feet by 20 feet. The walls are 3 feet thick. The highest surviving part of the structure is the N.E. gable. There are no carved mullions. The door is 3 feet 4 inches wide. There is a persistent local tradition that the builders of Kerog II saw a mysterious visitor who, pointing to the field on the north, said "if you dig there you'll find enough copper to roof it."
Arthur's Church functioned for about 190 years, from 1383 to 1573. It must have had about 20 Rectors. The names of 17 of them can be traced in the business log-books called Registers of the Archbishops of Armagh. Here they are, with the probable modern form of their names. Incidentally, Archbishop Fleming's spelling-Kamyl, reminiscent of the Cornish river, is likely the original
---
Page 69
THICK WALLS OF 1390 CHURCH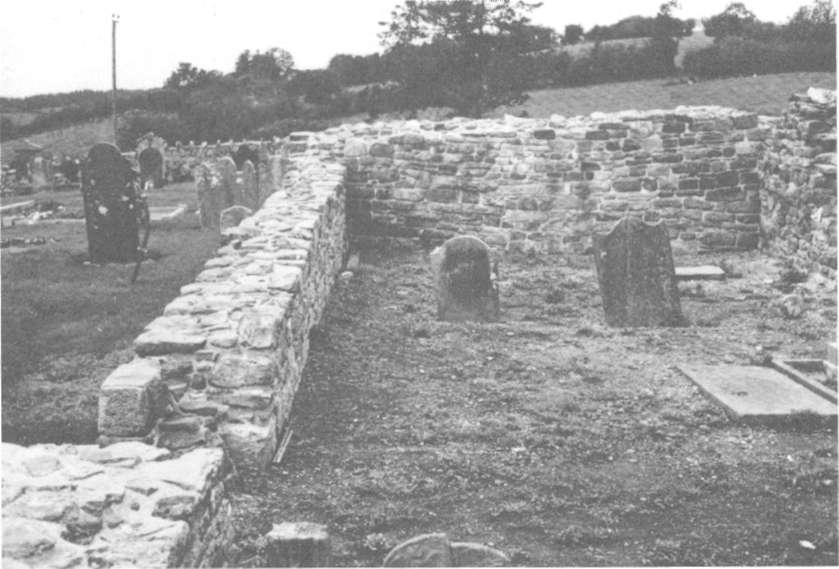 form of this name. Gaels suppressed the medial 'm', just as the southern English ignore a medial 'r' calling Lord, laud. Scots reinforce it with a 'p', as they do to Thomson, like the 't' they insert in Johnson.
| | | |
| --- | --- | --- |
| c 1390 | Denis McKammyll | (Cawell, Campbell) |
| 1406 | Laurence O Fergalich | (Farelly) |
| 1411 | Simon Magrana | (McGurran) |
| 1411 | Patrick O Lucheran | (Loughran) |
| 1417 | Donatus O Lucran | |
| 1421 | Patrick MacKasayg | (Casey) |
| 1421 | Magonius O Heurachtaych | (Herity) |
| 1432 | John McKammyll | (Cawell, Campbell) |
| | | |
| --- | --- | --- |
| 1426 | Solomon Macrevayr | (McKeever) |
| 1426 | Patrick O Fergally | (Farelly) |
| 1429 | Maurice O Corcran | |
| 1429 | Rory Magaguyr alias McEgyer | (Maguire) |
| 1438 | Patrick O Dangussa | (Angus) |
| 1492 | Peter O Mulugyra | (Mulgrew) |
| 1493 | Donatus O Cullel | (Colley) |
| 1501 | Bernard Maguinsean | (Magennis) |
| 1506 | Donald O Dongusa alias Odonassr | (De Angus) |
---
Page 70
RUINED ENTRANCE OF A.D. 1390 CHURCH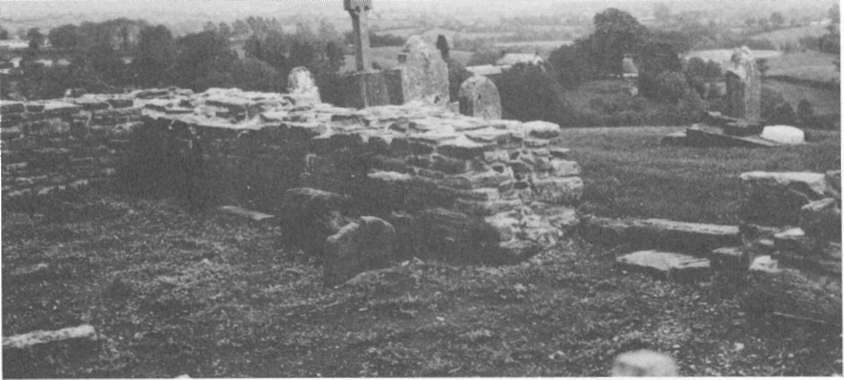 Seven Registers have survived—those of Archbishops Sweteman, Fleming, Swayne, Prene, Mey, Palatio, and Cromer—covering the years 1361 to 1543. The Archdiocese today runs from Magherafelt to Drogheda. During the time of Kerog II the northern part was dominated by the O Neills, Earls of Tyrone. Tyrone (Owen's Land) itself extended at that time from the Sperrins to near Newry. Tyrone's Ditches can be seen to this day near Drumbanagher Church. The southern part of the Diocese (County Louth) was ironically the loyal part, controlled mostly by the English of the Pale.

PRINCES AND PRIMATES

All seven Primates whose Registers have survived were forced by O Neill's antagonism to live in Louth. Indeed, this is probably why their Registers survived, escaping the periodical burning and destruction of Armagh Cathedral. But it also explains their shortage of information about Kerog perched at almost the opposite end of the diocese from the Primates' residence outside Drogheda. But we can be thankful that the Registers throw a little more light on Kerog II than the Annals threw on Kerog I.

Of Kerog's first known Rector we can find nothing but his name. But we can be pretty certain he was a close relative of Arthur McCawell, Bishop of Clogher (1390-1433) who in 1395 built Clogher Cathedral, Abbey, and Episcopal Residence.

On 29th Dec. 1406 Archbishop Fleming, or his secretary wrote down "At Atrium, Laurence O Fergalich had collation of the Rectory of Areguldakerog vacant by the death of Master Dionysius McKammyll." This simply means that Farelly was appointed in McCawells place, and on the same date Archbishop Fleming issued a mandate for induction to the Dean of Armagh. He daren't come north himself, so he is ordering the Dean to institute Kerog's 2nd (known) Rector. O Neill virtually appointed the Deans himself, and so allowed them to live in Armagh.

The supreme value of Fleming's note is that it spells the name of the saint and parish—KEROG. The Annals may refer to events long before Fleming's time, but were compiled two centuries after Fleming's time, and when we remember that the compilers were members of a Fraternity introduced into Kerog in opposition to the Primates and the establishment, it need not surprise us that they called it ciarog (beetle). So the earliest recorded spelling of the name vindicates what we had already deduced from analogous pronunciation and accent mutations. Hence our use of Fleming's spelling in these chronicles.

Chapter 3 ends on Page 84