Ulsterheart Chapter 7
The First Evangelist
Pages 233 to 243
Chapter 7 begins on Page 224
Page 233
Kerog Gets Company
The Tudors were obsessed with uniformity, a sterile concept inherited from pre-Tudor Christendom. Dissent was suspect. So, Kerog had a two century monopoly. By 1800 there was still only one Church in the dozen miles from Kilishel to Clogher. Very soon there were five
1810 Methodist
1818 Baptist
1820 Presbyterian
1825 R.C.
THE METHODISTS
In 1739 lohn Wesley started the methodist movement at Moorefield Foundry, Bristol. He was "one of the most powerful and active intellects in England." He was born at Epworth, Lines, in his father's Rectory. As well as being a C. of E. clergyman, ministering on both sides of the Adantic, John Wesley was a Fellow of Lincoln College, Oxford, and lectured in Greek.
Wesley's ancestors embraced the 17th century puritanism which issued logically and inevitably from Reformation theology. When those 'red blood cells' were expelled in 1662 it left the Church of England anaemic. So Wesley was tapping deep hereditary impulses when he tried to rescue the Church of England by an appeal to head and heart.
Colleagues were jealous of his eloquence. Pulpits were closed to him. So he took to the saddle. For over fifty years he rode all over the British Isles, preaching Christ. The French Revolution broke out 18 months before his death. Twenty five years of anarchy debilitated France. If one man prevented this epidemic from jumping the Channel, that man was John Wesley!
In 1747 he made the first of over twenty visits to Ireland. In 1767 he preached at Aughnacloy and Augher. Earlier that same year his disciple, "Swaddler" John Smith from Co. Cavan preached in Augher. Among those who heard him was James Smith of Roughan, and so, methodism came to Kerog. James
---
Page 234
FINLAY'S ENGINEERING WORKS
1811-1934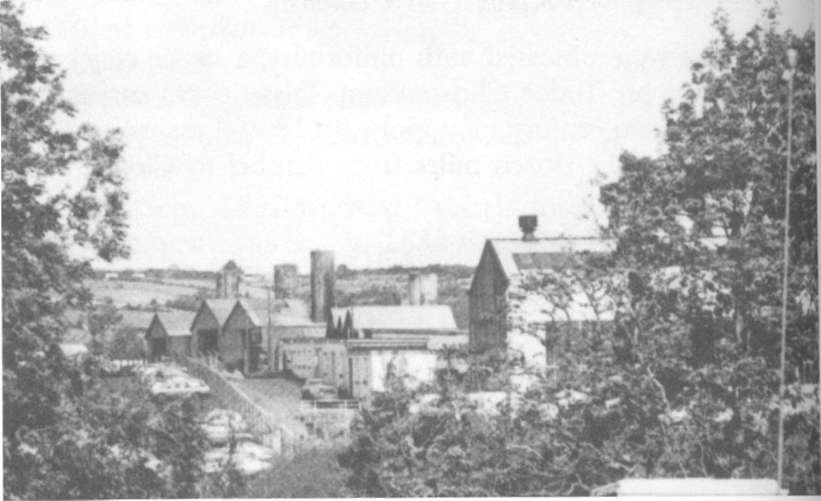 Smith started a group in his own home at Roughan, and there the 'converted' members of Kerog congregation met for 44 yrs until James Smith died in 1811.97
After Wesley's death methodist groups became the Methodist Church, and after James Smith died the first Methodist Church was built in Kerog. Today it is the residence of Mr. Guy Kirkpatrick in Lisnawery. The Deeds, dated 1855, refer to an Indenture of 4th Dec. 1809. Robert Jacob Meyer of Aughnacloy, and Robert Dill Lindsay of Omagh — 'preachers of the Gospel' are cited over the names of George Coghran and Hugh Moore of Cullembrone, James H. Buchanan and William Buchanan of Annahilla, Hugh Moore of Crossbuoy, John Clarke of Lurgacullion, and Charles Tierney of Lisnawery.
Lisnawery Church couldn't accommodate all those that came in 1810. The swollen attendance was probably attracted by the excitement of a new building, because, within a few years Kelly Groves noticed that the building "that used to be too small for the congregation, was not half filled." He also noted that the leading Methodist in 1817 was a respectable local miller, who recently quit attending Kerog, because Kerog curate, the Rev. William
---
Page 235
Falls on Sunday morning enquired about his oats, instead of his soul.98
It was the jubilee that saw this decline. It was exactly fifty years since James Smith had introduced methodism to Kerog. Another fifty years brought the centenary of its arrival in Kerog, and the Methodist Leaders of the circuit met for their 1867 meeting in William Kirkpatrick's house in Augher. The Circuit-Stewards present were Thomas Graham, William McMaster, William Millar, William Maxwell, and Alex Armstrong. The Chapel-Steward for Lisnawery was James Buchanan.
It was John Buchanan of Annahilla that bought the auctioned furnishings and fittings of Kerog-Three in 1833. Perhaps he used them in Lisnawery, and some may have found their way to the Ballynany building when it was built in 1934.
When the Circuit Meeting was held in Lisnawery on 26th May 1868, it included John Clarke, William Caldwell, and Robert Early, and in 1874 G. Kirkpatrick, Irvine Graham, William Bu­chanan, James Mulligan, James H. Buchanan, and Hugh Moore. In 1866 Methodist communicant membership was Aughnacloy 29, Lurgacullion 17, Lisnawery 45, and Augher 55.
Perhaps the Lurgacullion centre was the second Kerog Methodist Church referred to in an 1837 publication." Or if it refers to the Evangelical Church Groves noted in 1817, could it have been a Primitive Methodist breakaway? Certainly the Primitive Wesleyans had a Church in Aughnacloy from 1822-'79. Their building then became an intermediate school, and later a Hiber­nian Hall.100
Methodists in Kerog have had more Ministers since 1850 than Kerog since 1390. Methodists had the same number of clergy in one century as Kerog had in six! 101
1850
James Hughes
1862
John Gilbert
1851
John Armstrong
1865
Richard Maxwell
1852
Rbt. H. Lindsay
1866
Charles Wood
1855
Rbt. J. Meyer
1868
Rbt. Geale (?)
1857
Edward Johnston
1871
George Kirkpatrick
of Moysnaght, Tempo
1859
Edward Harpur
1861
James Henry
1874
Andrew M. Rutledge
page break
page break
1875
Wilson J. Storey
1918
Francis J. Johnston
1876
John Foster
1923
J. Gilcrest
1877
George Barnes
1924
S.T. Nelson
1879
Js Frazer & Js Waugh
1927
Walter Hill
1882
Wm. Ludlow
1930
Charles Keys
1885
Js Carey
1932
D. Hall Ludlow
1887
Js Edwards
1936
RA. Lochart, BA
1890
Thos Abraham
1938
CM. Fennell
1893
James Orr
1942
Harold Johnston Boyd
1896
John Johnston
1947
W Sidney Deale
1899
H. Kennedy
1950
Percy F. Shipway
1900
Gabriel Coulter
1954
W Moore Lipsett
1903
William Bryans
1959
Wm. E. Johnston
1905
Wm A.H. Robinson
1967
James Davidson
1909
Henry N. Kevin
1971
WL. Keys
1912
Arthur T. Johnston
1975
Wm. J. Lavery
1915
Thomas Moore
---
Page 236 (cont'd.)
THE BAPTISTS
The religion of John Milton and John Bunyan penetrated Kerog early, when William Moore, possibly a local enthusiast was foisted into the 30 yr incumbency of the Rev. Canon Erskine for about 27 months from Sept. 1655 until Dec. 1657.
In 1814 Joseph Ivemey started his Baptist Irish Mission, and so a place of worship for Baptists was built in the townland of Knockcony due north of Ballygawley in the year 1818. In mid-century the Presbyterian Minister in Tobermore turned Baptist, and during an energetic life buttressed Baptist strength in Tyrone. This probably explains why Mr. McDowell was settled as the first resident Minister of Knockcony in 1876.
On a Parliamentary Return in 1826 of the eleven schools in Kerog only 3 children were neither Episcopal, Presbyterian nor R.C. The figure 3 is entered in a column under the heading "Of other denomination". They were attending Knockcony school They were probably the total of Baptist school children in 1826 Kerog.
---
Page 237
THE PRESBYTERIANS
The Presbyterians maintained that the word "Church" meant a group of Christian people, so they always called their building a Meetinghouse. Most Presbyterian families came from the west of Scotland where northern Irishmen had settled a thousand years earlier. When they returned, it was mostly to the eastern townlands of Kerog. Their first Meetinghouse was on the townland of Lisbeg, at the back of Mr. Jim Angus's farm. They called it Aghaloo Presbyterian Charge. Their earliest Minister whose name is on record was the Rev. Joshua Fisher 1689. The Rev. Baptist Boyd ministered from 1697 to 1749, The third Minister of whom we know anything was the Rev. Hugh Mulligan. His Memorial was found in Kerog Churchyard by the 1973 Brett Ingram Survey. It reads
Here lyeth the Body of Revd Hugh Mulligan
late of Ballynany, who Departed this life
on 16th January 1786 aged 75 years
Also the Body of Mrs Ann Mulligan otherwise
Burrowes wife of Steuart Mulligan who died
19th January 1799, aged 44 years
His grandfather would appear to have been the James Mulligan living in Killybrick in 1665, from whom all the Mulligan families in Kerog parish seem to spring. He was born about 1710, and ordained in Bailieborough on 27th July 1742. He was installed in Aughnacloy on 13th Oct. 1757. If his wife was a Stewart, she may come from Bailieborough or one of that Presbyterian family in Killymorgan who had the largest weaving rooms in Kerog. There was a Burrowes family in Stradone House in the Co. Cavan parish of Larah where Hugh's grandson died in 1826. This Steuart Mulligan jr. married Jane Little, and had a child baptized Eliza Jane in Kerog in 1825.
The Rev. Hugh Mulligan got a Presbyterian Church built in Aughnacloy in 1774. His son Stuart Mulligan was Coroner for the Clogher Barony. Another document tells us two facts about the Rev. Hugh Mulligan. He was a native of that part of Tyrone in the Monaghan Presbytery, and he was a Gaelic speaker.102
---
Page 238

1886 PRESBYTERIAN CHURCH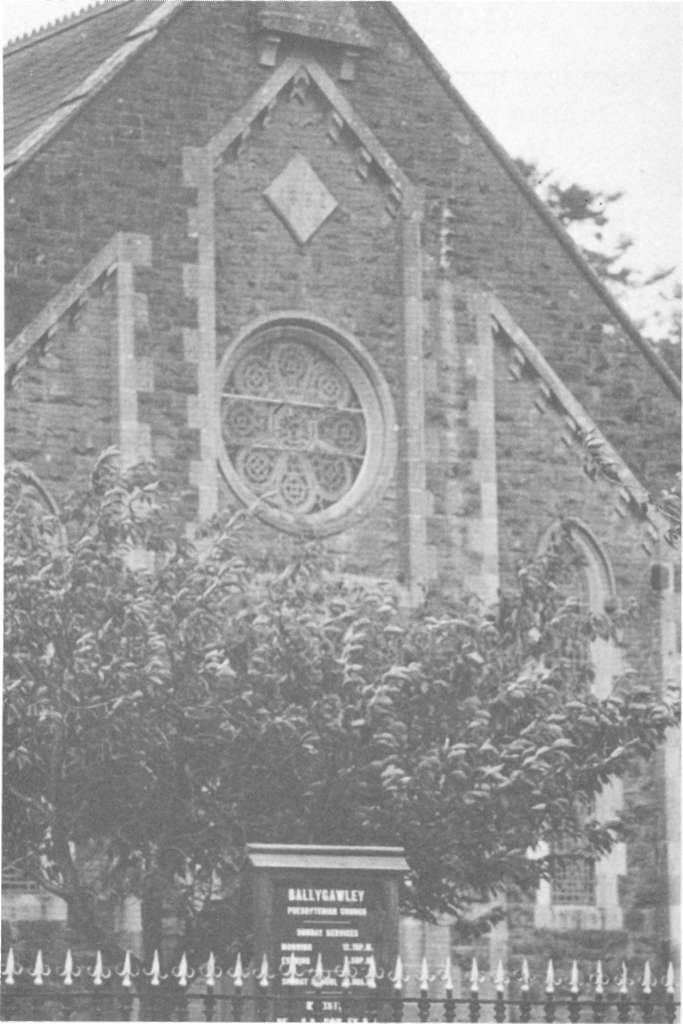 But surely the most interesting family to supply a Minister for the Aughnacloy-Ballygawley Charge was that of the Rev. Abernethy This Ballygawley Minister was one of a deputation sent to welcome King William III. His son, the Rev. John Abernethy (1680-1740), Minister of Antrim was a famous champion of liberty of conscience, the dominant characteristic of Irish Presbyterianism for exacdy a century after his death. Small wonder that
---
Page 239

Poetess Augusta Freeland
(Presbyterian minister's daughter)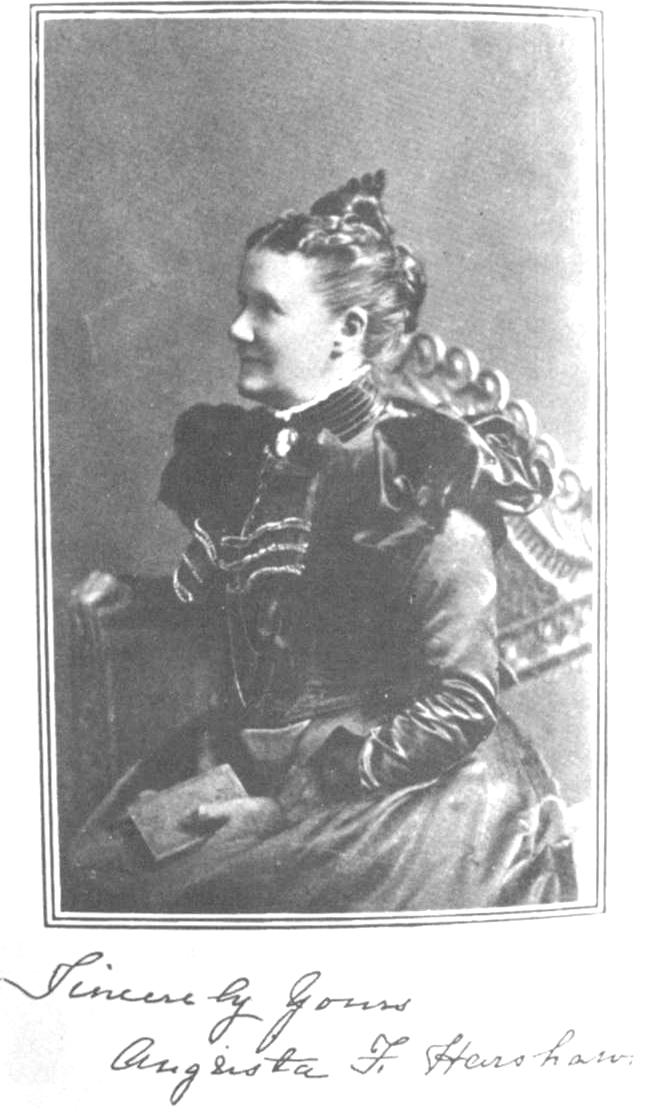 ---
Page 240

An image of the title page of
Lays of the Fireside
by Augusta F. Harshaw
copyright 1905
The musson Book Company Ltd.

the Ballygawley Minister's great-grandson Dr. John Abernethy was a renowned London pioneer Surgeon, and Court Physician. Rev. James Davison was suspended in 1811, after a 24 year ministry. Rev. John Anderson got the first Presbyterian Meetinghouse built in the village of Ballygawley, and before 1950 Church Street was called Meetinghouse Street.
---
Page 241

An image of the title page of
the table of contents of
Lays of the Fireside
by Augusta F. Harshaw

In 1817 Kelly Groves noted "The walls of a new Meetinghouse have been erected in Ballygawiey, but they seem to be on too large a scale, as they have remained some time uncovered." This first Presbyterian Church in Kerog Parish seems to have been completed about 1820.

When it was built, Ballygawiey got its first Minister of their own. They were separated at last from the Presbyterian Charge of Aghaloo (Aughnacloy). He was the Rev. David Cochrane. He
---
Page 242
was a young man, ordained on the 30th Nov. 1830. Unfortunately, he was "suspended for intemperance" after only 7 years, on 15th May 1837. That Ballygawley's first Minister and last Rector should go the same way is a sad corroboration of the Aughnacloy historian's opinion that Ballygawley "has too many whiskey shops, and lesser houses of entertainment."
Then came
| | |
| --- | --- |
| 1842 | John Steele Dickson |
| 1844 | William Ferguson |
| 1860 | John McBride |
| 1864 | Wm Rose Hamilton |
| 1872 | David Gordon Smyth |
| 1880 | Ross Hamilton |
| 1898 | James A. Cargin |
| 1907 | Robert Corkey |
| 1910 | Richard Park |
| 1933 | William Knox |
| 1948 | William S.Bell |
| 1955 | William A. McCabe |
| 1959 | Arthur Curry |
| 1973 | Samuel Conkey |
| 1986 | Norman McCormick |
Then, in the very year that Churchill started the Ulster Movement, 1886, a new Presbyterian Church was built, by Messrs Todd of Belfast for £1100. The Official opening was on 1st April 1887. The Rev. W. Magill of Trinity Church, Cork preached on Isaiah 60, 7 "I will glorify the house of my glory." Guest Collectors were Col. Deane Mann, Charles Moutray, Mervyn Moutray, and Captain Moutray, Dr. Warnock, John Given, J. Clements, and Dr. McMaster. The first half of this team were Church of Ireland. Indeed Charles and Capt. Robert P. Moutray were the Rector's brothers. Mervyn Moutray (1865-1964) was his 1st cousin.
THE ROMAN CATHOLICS
Forty Rectors have maintained the Faith of Ninyan and Patrick, of Kerog and Columba, as defined in the Aposties' Creed. At the
---
Page 243

BALLYMACELROY CHURCH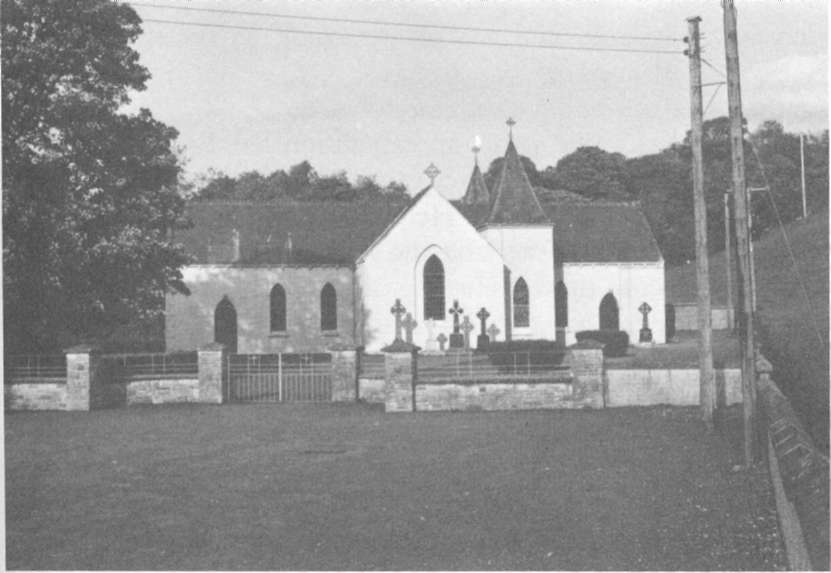 beginning this was the Faith of the WHOLE Church. The Greek word for WHOLE is CATHOLIC. And so every Sunday Kerogites give their testimony "I believe in God — I believe in Jesus Christ — I believe in the Holy Spirit, the Holy Catholic Church." So, in 1980 Kerog remains as truly Catholic as it was in 493.
In 1550 the Irish Catholic Bishops decided that all Bishops should be equal in authority as they had been in the beginning. Since 1150 they were subject to one of the Bishops in Italy.103 For 4 centuries they had even allowed the Bishop of the city of Rome to choose Bishops for the Irish Church. They now decided he should confine his activities to his own diocese (district), and they should be independent of him.
They revived the old Church, and copied the system of the early Christians who had no officials higher than Bishops.
Irish Chieftains accepted this move townards independence and reform. But the Bishop of the Diocese of Rome didn't. He tried to ex-communicate the Queen from the Christian Church. On 25th February 1570 he issued a decree called, from its opening words, "Regnans in Excelsis" ordering all her English and Irish people to disobey her.104 The decree was very hurtful. He described the Queen and all her successors as illegitimate.
Chapter 7 ends on Page 271