Ulsterheart Chapter 7
The First Evangelist
Pages 244 to 256
Chapter 7 begins on Page 224
Page 244
For twenty years Ireland wavered. Would it follow Sweden, Germany, Holland, and Britain returning to the old Christian Faith and Bishops of equal status? Or, would Ireland follow southern Europe and remain unreformed?
To help decide the issue, an expedition left Ferol, Spain with two new Bishops aboard. They came ashore at Smerwick, Dingle. The Bishops, Sanders and O'Hely were preceded up the beach by two Friars in habits, carrying the flag of the Diocese of Rome. According to the official History of the Irish Church, it was the first time this flag had ever flown in Ireland. It was the 18th July, 1579.105
Anyone who accepted the 1570 Decree and approved of the Dingle invasion was suspect. The authorities reckoned that many Irishmen had a divided allegiance. They made laws to exclude them from power and influence in the country. They were not allowed into the Universities, and in the army were not allowed to rise above the rank of Private. They could be neither Lawyers nor Members of Parliament.
These harsh Penal Laws were a defence against the Decree "Regnans in Excelsis" and the Dingle Affair. So eight generations of Irishmen who were loyal to Rome forfeited their civil rights. When the danger of foreign interference receded after the Armada and the Boyne, these Penal restrictions should have been removed. In fact they were sometimes increased by vindictive bureaucrats who seemed unaware of their political origin.
It was an age of intolerance. Penalties were worse elsewhere. People whose allegiance to their country was never in doubt were, for their religion, sent, in France, to the Galleys (slavery), and in Spain to the crematoria.106
The penal laws did not finally disappear in Ireland until 1829. But, in a 14 page booklet on the R.C.s in Kerog, Brendan McEvoy says the worst restrictions were gone by 1750, so that R.C.s could come down from their remote open-air altars in Alt-muskin, and worship less furtively on a Neely field in Glencul, and on Devlin's farm beside Ballymacelroy Bridge.107
Devlin junior married a Protestant, Miss Roberts. The only Roberts family in Kerog at the time lived in Ballinaputtock and Lismore, 4 miles away from Ballymacelroy. But it is conceivable that the Roberts girl worked in the big house nearby — Harvey's
---
Page 245
of Tullygliss. This would facilitate courtship in suspicious times. It would also explain how Mrs Devlin was able to prevail on Sir John Stewart M.P. to allow a chapel to be built over the open-air altar on Devlin's farm. Even then, Sir John stipulated that it must have the appearance of a barn, in case the Attorney General for Ireland be accused of allowing treason on his doorstep.
Brendan McEvoy in his valuable short history did not pin-point the date of this. But, since the Stewarts came to Greenhill in 1811 it is probable that the ingratiation did not mature until 1814 at the earliest, and that the simple camouflaged chapel would take shape in the year of Napoleon's abdication.
Using this simple structure as a sanctuary, the Rev. J. Mulgrew, ten years later built a proper Church. A neat tablet, inside the north gate commemorates the erection of this first Church in 1825. Fifty years later it was "in a very dilapidated condition".108 So, about 1880 it was completely renovated. The outhouses camouflaging it, and the farmhouses across the entrance were removed.
St. Matthew's Garvaghy was built in a similar way. About 1828 a chapel was built on the site of McCusker's barn, and transepts added in 1868.
Brendan McEvoy discovered the names of two clergy who served the R.C.s in the 1700s—Quin, and Donnelly. He attributes most of the building to the Rev. John Mulgrew (1812-34) who built Garvaghy Church and Glencul School as well as the Priest's house (1828) and the Ballymacelroy extensions.
In 1834 came the Rev. Felix Slane, later to be Dean, and in 1848 the Rev. James Fearon, son of a Protestant mother. After the Rev. Michael Tally (1879), the Rev. Bernard Daly came in 1885 and built the house beside the village Orange Hall for his curate, the Rev. Patrick McElkenny, who had been renting the 'Parsonage' beside the Manse.
By far the most famous R.C. clergyman to spring from this community was Joseph Cardinal MacRory, born in Shantavney in 1861, and R.C. Archbishop of Armagh from 1928 to 1945. He was a man much respected in the Roman Church and outside it. So, it came as a great surprise when, in the summer of 1932 he said he thought the clergy of the Irish Church were not genuine.
Many thought his remarks preposterous, and didn't take him
---
Page 246
CARDINAL MACRORY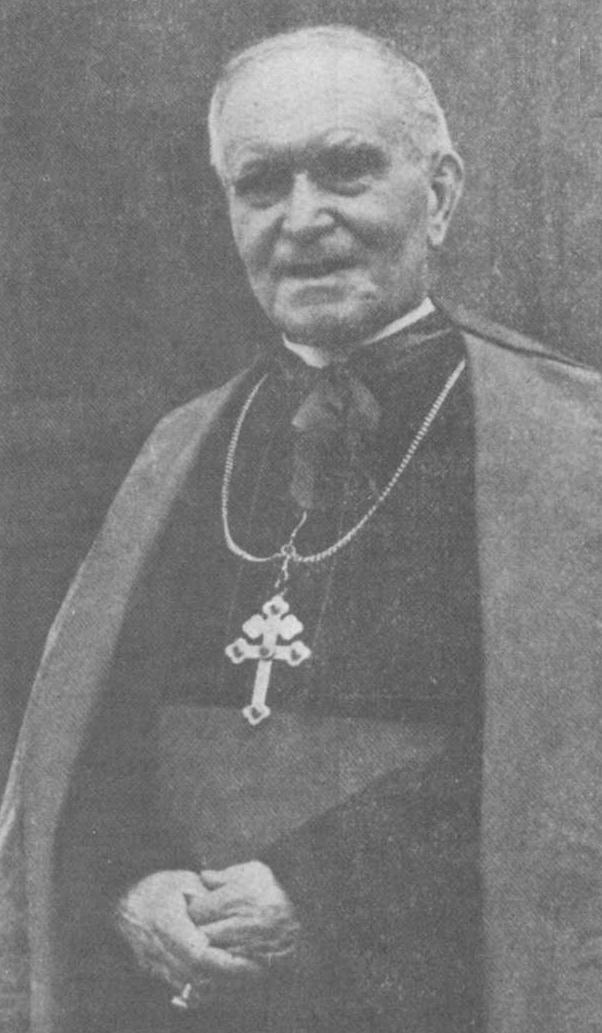 seriously. Those who did, were shocked and hurt. They showered letters on the Dublin and Belfast newspapers. Were their leaders really only well-dressed laymen masquerading as clergy? They appealed to the Bishops of the Irish Church to clear the matter up. John Allen Fitzgerald Gregg, Archbishop of Dublin did just that. In lengthy articles, published in the July and August newspapers
---
Page 247
in 1932, he explained that his clergy were true spiritual successors of St. Paul and St. Patrick.
MacRory's allegations did not affect the Cardinal's native parish. The first Preacher in Ballygawley Protestant Church was the son of an R.C.,109 whilst the daughter of a Protestant built Ballymacelroy Chapel. Could this twin paradox be a portent of the day when all Kerog's Christians will worship one God, through one Mediator, in one Communion!
THE BRETHREN
When, in 1827, Kerog was enduring the first Ballygawley crisis, the Rector of Wicklow was reading some of the strong language Jesus used about the clergy of his own church, as recorded in Matthew 23. In verses 8 to 12 he told his followers not to use ecclesiastical titles, and added "You are all brothers, and your only Master is Christ." The Rev. John Nelson Darby took this to mean that there should be no professional clergy in the Christian Church. He resigned!
In 1828, Darby began worship with other 'Brethren' in the four-storey Georgian house at 24 Aungier Street, Dublin, owned by the author's Uncle (Thomas Ingram) a century later. By 1880 there was a Brethren Meeting at Anahoe. It was held at Robert Garrett's shop, owned by Charles Clarke a century later.
Then in 1897 the Brethren started meetings in the village. They assembled in Miss Dickey's shop (now Mervyn Moore's.) From 1910 until 1933 the Brethren worshipped at Martray Manor, and it was Mr. Erskine who instigated the building of the first Brethren Meeting-house or Gospel Hall at Martray about 1933. It was a wooden structure, replaced by more durable materials in the 1970s.
Moutray Monopoly
The Moutray family had a monopoly of Kerog from 1780 to 1908. Corry Moutray's father, son, and grandson spanned 95 years as Rectors and 16 as curates of the Ulsterheart parish. Admittedly there was a gap in the Moutray succession from 1802 to
---
Page 248
Image of the Bretheren Meeting House
now a store (image flawed)
1834, when Graham was Rector, but since Graham lived in his other parish — Pomeroy, Corry Moutray's domination of Kerog affairs during this gap was almost complete.
Indeed, the very year his father died, Corry Moutray started proceedings to take over completely this tithe-rich parish. On, 18th April 1803 he paid Sir William Richardson £ 2,000 for the
---
Page 249

Image of the Rev. J.J. Moutray
(image flawed)

"privilege King Charles had granted to the Richardsons of choosing every second Kerog Rector. From now on, Favor Royal could make all appointments, instead of alternating with the Spur Royal family.

indeed, Rector Graham's long tenure suited Corry Moutray. During it, there was no Moutray candidate available. But Corry Moutray made trebly sure that Graham would be followed by a
---
Page 250

Moutray. Three of his six sons were ordained—John James, Thomas, and William.

JOHN JAMES MOUTRAY (1802-'86) 36th Kerog Rector, second son of Corry Moutray the 10th Landlord of Favor Royal, was born on the 15th April, 1802. He graduated B.A. from T.C.D., and was ordained in Derry Cathedral, by Bishop Knox, on Thur. 18th Sept. 1828. He became Curate-Assistant of Kerog in November 1829. Five years later, on 7th July, 1834, his father nominated him Rector of the Ulsterheart Church, and he was "inducted on 11th July".110

On New Year's Day 1836 J.J. married Maria Dorothea Perceval daughter of a Wicklow Rector. Between 1837 and 1858 they had 5 sons and 3 daughters.
| | | |
| --- | --- | --- |
| Robert Perceval | 1840 - '96 | d. bachelor |
| William Henry | 1843 - 1929 | Emigrated to Canada |
| Anketell | 1844 - 1937 | Succeeded J.J. as 13th Landlord |
| Charles Fred'k | 1846 - '85 | of Summerhill, Augher |
| Anna | 1849 - 1939 | of Killybrick |
| Mary | 1851 - ? | became Mrs. A.F. Briscoe of Westmeath |
| Caroline (Gary) | 1858 - 1946 | was still living at Killybrick when the atom bomb hit Hiroshima, though her father lived before Trafalgar |
The Rogue Arrives
Forty-six children were baptized in St. Matthew's Church in its first full year, 1833. They are recorded with the same standard of clarity and neatness set by J.J.'s predecessor as curate, the Rev. Thomas Murray. But after J.J.'s own Institution there is a noticeable depreciation—blots, gaps, and mis-spellings. The Register becomes gradually worse until in 1837 it may have been tempo--
---
Page 251

rarily mislaid as the Marriages and Burials are interpolated in the old 1812 Register.

Indeed, the 30 year old Rector wasn't certain where he was Rector. In 1831 he entered the name of his parish as Errigle KIERAN. In 1834 he changed to KEERAN. Then he changed to KEEROGE, and in 1836 to KIEROGE. In 1837 he calls it KEIROGE. Back to KIEROGE in '38, and to KEIROGE again in '39. In the midst of all this vertigo a "rogue" slipped into the parish.

The cockroach got in in Mediaeval times, and we can make a shrewd guess who lengthened Kerog's vowels to make it sound like Keeroge (i.e. Ciarog = a cockroach, in gaelic). It is not so easy to identify the miscreant who put a V into the last syllable. It may have been the drafter of Lewis's Topographical Dictionary in 1837, the first compendium of data on all the parishes in Ire­land. But the Editor says that prior to going to press, "proof sheets were forwarded to those resident gentlemen who had pre­viously furnished local information." 111 If the 'rogue' did appear in these proofs, J.J. would obviously not have known how to correct it. His lapse certainly allowed that standard Reference Book to establish the "rogue" in the parish, and shortly afterwards J.J. re-named his parish Errigle KEEROGUE, and it became the accepted spelling for three generations of Kerogites. The "rogue" was firmly entrenched until the author expelled him 135 years later. Strangely, the Register which traces malignant nomenclature metamorphosis bears a red leather label, inscribed in gold letters "Parish of Errigle Keroge 1831".

Victorian Kerog

But Lewis's Topographical Dictionary, with its fourteen hundred pages, of one and a half million words is excellent compensation for places not covered by Shaw Mason in his "Parochial Survey" of 20 years earlier. It contains 600 words under the heading ERRIGAL KEROGUE. It is a parish of 21,139 ¾ statute acres with 9,782 inhabitants on the Blackwater, and on the Aughnacloy to Omagh road, containing the post-town of Ballygawley. Though
---
Page 252
Ballygawley had been a separate ecclesiastical parish for 7 years, it remained in the Civil Parish of Errigle Kerog even in the nineteen sixties, as can been seen on Schoolmaster Robb's Roll Books. Incidentally, on the 18th October, 1832 J.J. Moutray certified that he had 773 souls, 379 male, and 394 female. Lewis noticed 1035 foot Shantavney dominating Kerog's north, and the "fertile fields in its south". Shantavney's streams form "numerous picturesque cascades", one with fossils and shells. Lismore has unworked veins of surface coal. He thought the Craigs of Tullygliss were "conspicuous precipices".
Lewis notes that Kerog tithes are worth £ 380, and that Kerog Rectory is called Richmount, with its 266 acres, plus 297 more acres of glebe in the townland of Gort. Incidentally, Gort is the Gaelic word for a field, but in mediaeval times usually describes Abbey lands. Lewis calls St. Matthew's "a handsome edifice in the later English style, with embattled tower", and he confirms that it was built in 1831 "near the site of the ancient structure at Ballinasaggard (sic) for £ 1,300 of which £ 1,100 was a First Fruits loan."
In 1838, Rural Dean Edward Stopford inspected the Parish. He found the children catechized on Sunday at Church, and on Saturday in the school, at one o'clock. He noted that the Schoolmaster was "well qualified, dutiful and regular at Church and Holy Communion." He had 30 children in the winter, and 35 in the summer. He saw a Preacher's Book which has not survived. A Cess tax was laid on to pay for "coffins, deserted children, and the Vestry Clerk."112
In 1838 the Rector was relieved at services so often by the Rev. Thomas Murray, and by his own bachelor brother, the Rev. Wm. Moutray, that one wonders whether he was incapacitated. Whatever the reason, he appointed this young brother, now 28, as his Curate-assistant 1839-41. William Moutray (1811-'88) had been ordained with 15 others, by Bishop Mant author of "Bright the vision", in Christ Church, Belfast on Sunday 4th Sept. 1836. 14th Sept. his father got Lodgings for him "in Brookborough to commence the 1st of October next at £ 32 yearly."113 As Minister of Portclare, he seems to have lived at Favor Royal for the first sixty years of his life. But when the Rev. J.J. moved there from
---
Page 253

REV WILLIAM MOUTRAY'S ROUND TOWER COTTAGE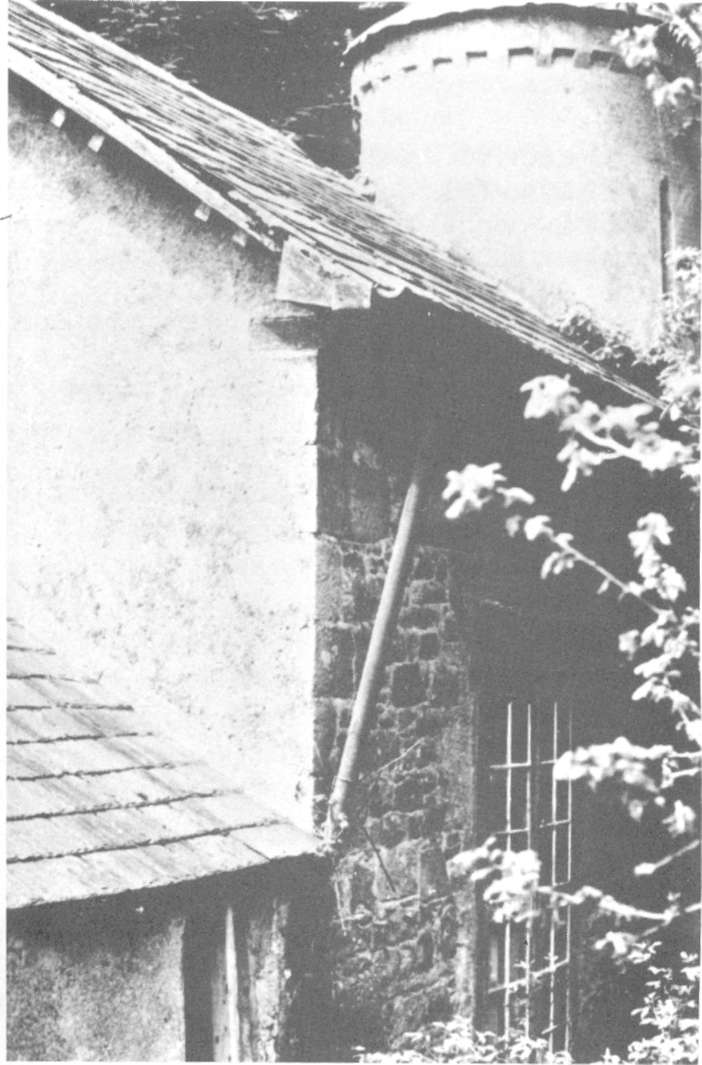 Richmount about 1870 life became unbearable. 1872, Oct. 4 "John gave me verbal notice not to have my breakfast in his parlour." When he could endure the Landlord Rector no longer he quit. He built himself a delightful wee cottage on the hillside just above the tennis court, adorned with a neat round tower. His diaries reflect his interests. As well as noting his 96 com-
---
Page 254

municants on Christmas Day 1877 he makes frequent references to his breeding of shorthorn cattle.

In 1849 he jotted down
| | |
| --- | --- |
| Apr 20 | Was at Clogher Fair. Ran after an eagle at the old Pond. Missed it with baby rifle. |
| Aug. 16 | Bull cheated out of prize at Clogher Show, by foul play. He was the best there by far |
| Dec 24 | Bought a Springer cow for £ 4-15. and sent her to Augher. |
| Dec.25 | 75 communicants |
| Dec 30 | Lay awake all night with headache, caused, I think, by Sam Wil­liamson's bad bread. |
Since St. Matthew's was built, the Churchwardens had paid Edward Beatty one pound per year rent for "Harvey's" field. In 1845, Corry Moutray bought out the strip. With a 6 thousand acre estate, and a 6 hundred acre demesne we might expect him to donate this tiny strip to the Church. He didn't. He now charged the rent previously charged by Beatty. And so, on 5th April 1847 the Churchwardens noted "We present to J.C. Moutray Esq for one year's rent of the Churchyard £ 1—0-0."
The Great Hunger
No Kerog records make explicit reference to the disastrous blight which damaged the potato crops in the eighteen forties, especially 1847, driving half the people of Ireland into the grave or emigration. We might expect to see its impact reflected in the figures J.J. Moutray entered on his Preacher's Book, Baptism and Burial Registers.
| | | | | |
| --- | --- | --- | --- | --- |
| 1845 | | 32 | 10 | 13 |
| 1846 | 174 | 25 | 7 | 18 |
| 1847 | 144 | 18 | 2 | 18 |
| 1848 | 164 | 14 | 4 | 10 |
| 1849 | 150 | 15 | 2 | 11 |
| 1850 | 112 | 11 | 3 | 15 |
| 1851 | 109 | 9 | 6 | 18 |
---
Page 255
There is a decline in the famine years. But this can hardly have been due to starvation, since so many had sidelines, like weaving, that enabled them to buy flour. And the numbers of deaths does not suggest widespread expiry from hunger.
Brendan McEvoy noticed the same situation on the Ballymacelroy Registers. The Famine was not apparently as devastating in this parish as in many other districts. The average number of deaths in the previous years was 40 to 50. The number recorded in the Ballymacelroy Burial Register for the Famine years was
1845 — 37
1846 — 43
1847 — 71
1848 — 56
1849 — 40
Apart from 1847 the death roll remained average. This was partly thanks to the several Brochan Houses in the parish, where porridge was made and distributed to the hungry. Two of these are still well known — one of them, "Katie's Kitchen" situated on the west of the Omagh road at the entrance to Garvaghy, was the home of Kate Patterson.
From the fact that Ballymacelroy marriages dropped from 27 per year before the famine to 15 in the year after it, McEvoy concludes that youth had emigrated in great numbers. This is precisely what the Kerog figures suggest. The Statistical nosedive comes in the early fifties. A drop in attendance of 37% can only mean that Kerogites, after surviving the Great Hunger, joined the "huddled masses" in their subsequent Atlantic stampede.
The McKenna Corridor
For at least 35 years parishioners had paid the farmer next door an access toll of thirteen shillings and nine pence for the right to cross a strip of his land near Kerog door. In 1850 Corry Moutray 10th Landlord of Favor Royal bought this tiny strip from Mr. James McKenna, but he did not donate it to the Church. He rented it to the Church, as he was doing with Harvey's field since he bought it 4 years earlier. The Minutes of the Vestry held on
---
Page 256
22nd April, 1850 state "Paid J.C. Moutray for one year's rent of the part of the Churchyard formerly in the possession of James McKenna, thirteen shillings and ninepence."
We can deduce little from the monotonous mid-century records. Perhaps JJ.s outlook is reflected in his not inviting Baker of Ballygawley to preach in Kerog pulpit which was visited by Horner of Kilishel in 1849, '50, and '51 while on the other side of Kerog, three Augher clergy, Gervais, Bunbury, and J.B. Story were his guest preachers.
On Thur. 29th May 1851 nineteen people attended a service which J.J. called "Ascension and Restoration". His lapses are frequent. He often enters the wrong date for the first Sunday in the month. The Sept. 1854 services are not recorded, nor are there any Baptisms, Marriages, or Burials for that month. If the Rector had been away and the Registers kept in Richmount, his deputies might not have had access to them.
There were no Special Preachers for harvest thanksgiving, or any sign of a swollen congregation at that season. But the 5th November drew huge attendances for the special service every year called in the Prayer Book of the time "A Form of Prayer, with Thanksgiving, to be used Yearly on the fifth day of November for the Happy Deliverance of King James I from the Most Traitorous and Bloody Intended Massacre by Gunpowder, and for the Happy Arrival of King William" on the same date.
No contributions to Foreign Missions appear in the Church Accounts, and the occasional microscopic marginal notes in the Preacher's Book are cryptic.
24 Dec. 1848
C.E. Society is probably a reference to Church Education
8 July '49
Additional curates fund society 9 shills 5 pence
30 Nov. '51
Society for Foreign Parts 10 shills, 6 pence
Oct & Nov '55
single word "Propagation" in margin
Mar. 1857
A D Society
Dec. 1858
Propagation Society.
9 Jan 1859
when the collection was for C.E. Society, in the place of the usual double J.J. Moutray signature, the Rector has entered
Reader — J.J. Moutray
Preacher — J.J. Society
Chapter 7 ends on Page 271