Ulsterheart Chapter 7
The First Evangelist
Pages 257 to 271
Chapter 7 begins on Page 224
Page 257
Sunday School
Five old Sunday School Roll Books survive, commencing in 1849. They cover about 40 of the next 60 years. For the first 4 years at least, there was a branch S.S. at Garvaghy, with about 37 on Roll. There were 2 male and one female teachers, but none of their names is on record. The attendance averaged 20. They came from the townlands of Garvaghy, Errigle, Rarogan, Brackah, Tychany, Glencul. Incidentally, the Garvaghy Roll has a double enigma on the page facing 20th Jan. 1850
"Explain the Nature and Basis of the Fly valve in a paper-engine."
"Take the difference between the action of a Reflector in a magic lantern."
Garvaghy S.S. had six classes—two of "Bible Readers", two of "Testament Readers" and two of "Alphabet".
About 1850 was probably the high-water mark of Favor Royal fortunes, with its 80 year old landlord. If he had his worries they were domestic. None of the trials and triumphs of other Valley gentry, in the arts, military matters, or administration molested Favor Royal. Its record of achievement was as it had been for two centuries. No inheritance crisis like that of 1863 had yet hit Favor Royal, and the Disestablishment storm that was to threaten their grip on Kerog was still a decade beyond the horizon. Mid-century was the mid-afternoon of the Moutray dynasty.
On 18th February 1850 William Moutray noted "Duffy the Contractor came back to finish repairs on Portclare Church."
June 17
The Armagh-Enniskillen coach ran past the gate here for the first time, a quarter before 1 p.m. for Enniskillen.
June 18
Somebody, I believe James Scott, threw a stone through the Rent Room window.
July 5
Widow Scott's cow killed. I got into a row at Moy Fair, but got well out of it.
page break
Sept. 2
Wishart commenced as Schoolmaster
Nov. 23
Returned from Dublin. Left at 5 past 10. Home at 6.
1851
May 15
Duncan's dog poisoned last night, for spite.
June 11
Plumber putting up an aquatic closet upstairs.
Sept 2
Went to Hamilton's Hotel in Bundoran.
page break
1852
Mar. 14
My first Anti-Popery Lecture in Mount Forrest.
May 25
Bathed first time this year.
June 13
Went to Scarva to look at two Devon Bulls
June 19
Killed a weasel in Deerpark. Gave 12th Anti-Popery Lec­ture in Portclare—on "Penance".
Sept 17
Stewart Campbell went to America, and left worse people behind him.
Nov. 3
Enniskillen Coach in an upset with Whitney in Dog-cart.
1855
Dec. 6
Barbara and Anketell strum, strumming terribly in draw-ingroom at night.
1856
April 15
Went to Dublin via Omagh.
Oct. 5
Cumberland shot dead by poachers on Fardross moun­tain.
Nov. 22
No school for scarletina (sic) and smallpox.
---
Page 258
REV WILLIAM MOUTRAY
Founder of the Shorthorn Breeders' Association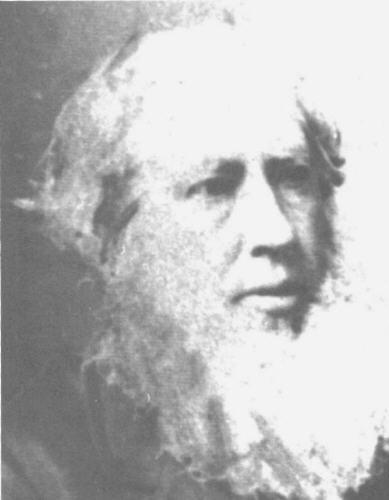 ---
Page 259
On Easter Tuesday, 26th April, 1859, the 10th Landlord Corry Moutray died, aged 87 yrs and 7 months. The Dean of Clogher, the V Rev. Rbt. Maude presided at the funeral on Saturday 30th. Next day, 200 people turned up in Church, but the Rector has written in the Preacher's Book: "May 1st. First Sunday after the death of J.C. Moutray Esqr on account of which went to minister, was so affected as not to be able for the Sermon." And his brother Rev. Wm Moutray entered in his Diary for April 26 "Father taken away from us at 20 after 12 o'clock. Calm and peaceful—to a better world."
Unfortunately Kerog has no memento of this central figure of the eight generations of Favor Royal Moutrays who lived out their lives in the parish. He was just one of the Committee of 5 who built St. Matthew's with a loan that the Churchwardens were to repay. The bell he was deputed to purchase for it in 1832 might have made a suitable memorial for him to donate. He didn't. Kerog Churchwardens reimbursed him the whole £ 20, 10 shill­ings, and six pennies. Indeed, seven generations of his family knew
---
Page 260
Image of the Corry Moutray
Most prominent of the ten Moutray landlords
His father, son, and grandson were Kerog Rectors
(image flawed)
---
Page 261
Image of the MAXWELL MARBLE
in Kerog Church
(image flawed)
---
Page 262
Image of the dedication below
MAXWELL MARBLE
in Kerog Church
(image flawed)
no other Church for two centuries after their arrival in Ulster. So the absence of Memorials, Gifts, or Installations is astonishing. The Maxwells of Killyfaddy erected a marble scroll plaque in memory of Mrs Waring Maxwell, on which they record the fact that she was Isabella the daughter of J.C. Moutray — the sole mention of him or his works anywhere in the parish. His Prayer Book — a cheap S.P.C.K. edition remained in 1975 in what was presumably the Favor Royal Box on the edge of Kerog balcony. On the fly-leaf he has written "J.C. Moutray, Balnasagart Church, 1843". This was 8 years after he had built Portclare. There is some doubt whether the eagle lectern bearing a brass plate inscribed by some friends in memory of the 36th Rector is itself the gift. It was more likely already a church furnishing to which they attached the brass. Certainly, the relatives paid a £ 1 fee to the Vestry in 1888 for permission to erect this piece of brass.
The new Landlord of Favor Royal was the Rector's eldest brother, bachelor Anketell Moutray, who managed the Estate for the next ten years, until his death in 1869. But the Rector's wife Dorothy Perceval died in Richmount on 27th Sept. 1864.
---
Page 263
Finances
Kerog business during the ministry of the 36th Rector should be reflected in the Church Accounts. It isn't. Thirty two years of detailed accounts appear in the old Churchwarden's Book which ceases in 1846. Accounts are then recorded in the Vestry Minute Book, and since it began in 1829, there are duplicate records of Kerog finances for 18 years. They don't always tally, as in 1837 when the Vestry Clerk was paid £ 3 according to the Account Book, and £ 2 according to the Minute Book—a fifty per cent variation.
But the most noticeable feature is the shrinking of the budget
1814 —£ 150
1830 —£ 85
1834 —£ 10
1857 —£ 3-7-3
After the Institution of the 36th Rector in 1834 the Accounts become laconic, and the Minutes prosaic, little more than rent, shovels, rakes and coffins. This run-down parallels encroachments on the prerogatives of the Churchwardens. Indeed the Vestry Minutes soon record no business, except the Oath taken by each year's Churchwarden, and even this declaration is eventually abbreviated.
In 1851, they put their signatures to the following:—
"We, Robert Simpson, and Robert Giles do declare that we will truly and impartially and faithfully execute the office of Church­warden with the said parish of Errigle Keerogue, in respect of parochial rates and assessments and the Collectors an and Managers of the same, and the properties and monies of the said parish."
Nine years later, this has become, in 1860
"We, James Simpson and Thomas Montgomery do declare that we will truly and faithfully execute the office of Church warden in the said Parish."
---
Page 264
The disappearance of any reference to funds is significant. The word "truly" was dropped in 1866. In 1868, the Oath was not even recorded, and where in 1869 we might expect them we find a blank page, with neither Minutes, accounts, Warden appoint­ments, nor Oaths.
Wine and Wax Account
After the accounts peter out in 1857, all we know of Kerog finances in the 13 vital years leading up to Disestablishment are some extraordinary jottings on the fly-leaves of the Preacher's Book. They are in the Rector's handwriting. He has scribbled "Spouting overflowing for not being cleaned, on 3 June 1866."
3 packages of Candles up to
23rd December 1860
1 package of Candles
October 27th 1861
2 ditto
December 22nd 1861
9
Aug 2nd
46
19th Oct
42 and 2 pieces
9th Nov.
I think 2 pieces missing on
23rd Nov.
24 whole and 2 pieces
23rd Nov.
62
56 and 9
31 whole Candles put on 28th Dec. '62 on walls and Ailse (sic)
Jan 11th one package not opened
Candle Account for the year ending March 25th 1863
Three left from last year, but accounted for.
14 whole and some pieces
Provided on
19th of Oct
One package
23rd Nov
One package
21st Dec
One package
11th Jan '63
One package of small
The above all accounted for in May 1863

Candle Account for the year ending 25th March 1864

Oct
One package
Dec
One package
Jan
½ package
Jan 31
One package
do.
8 wax at 4 d
For the year ending 25th March 65
2 Packages
1 Composites
1 Wax
For the year ending 25th March 65
15 Candles
1 Package
1 Package
1 Package not opened
3 and 15 Candles
For the year ending 25th March 67
Nov. 26th 66
1 Package Composites
1 do. not opened
2 packages
Year ending 25 Mar 68
1P comp
Year ending 25 Mar 68
12 Sperm
Jan 26 68
1 P composite
4 Sperm
May 68
1 P composite
May 7th 69
1 P composite
---
Page 265

J.J. GRAFFITI

He was just as fastidious about the Communion wine stocks

11 botdes of wine in press for the year commencing 25 March 1864
17 full on 17th July 64—9 used
12 bottles of wine in press for the year ending March 65
17 whole bottles after Sacrament on 2nd July 1865
10 " " " " " " " " " " " " " " " " " " "1866
8 only used for the year commencing 1866
13 botdes of wine on hands for the year commencing 25 March 68
8½ bottles used in the year commencing 25th March 68
12½ on hands for the year commencing 25th March 69
---
Page 266

REV. J.J. MOUTRAY 1802 - '86
36th rector 1834 - 77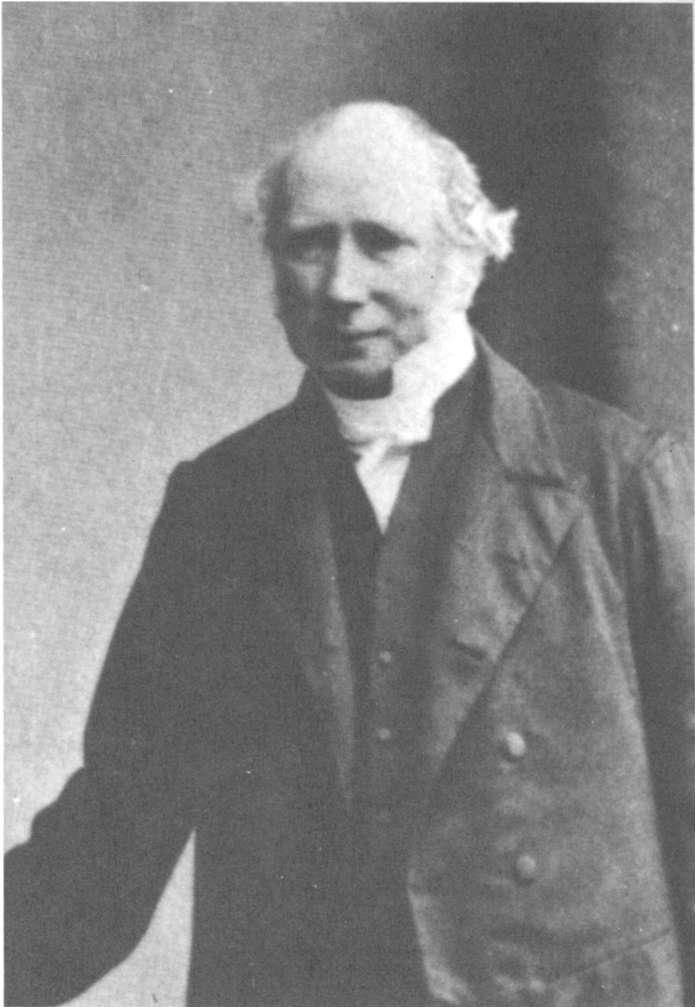 J.J. Moutray says he had a total of 224 communicants in the year commencing 25th March 1868. Today, that number would use about two bottles of wine. He used eight and a half !
The events of 1869 were to put an abrupt end to the Rector's pre-occupation with candle grease and dregs. On 9th August the Rev. William Moutray officiated at the funeral of their father's 91 year old first cousin, Sandy Moutray of Ballinasagart. Then on 1st
---
Page 267
Nov. 1869 another ancient leaf fell from the Moutray tree when the Rector's eldest brother, the bachelor Anketell Moutray 11th Landlord died at 76 years of age. And so on that wintry day in the winter of his life Kerog's 36th Rector became the 12th Landlord of Favor Royal. For the next eight years he held down the two jobs of Landlord and Rector until 1877 when he retired from the less remunerative of the two.
Staff Shunting
Long before that, Estate affairs convinced him he would need help in Kerog. He took the unprecedented step of appointing as his curate-assistant a man who was simultaneously Rector of another Parish. The new curate of Kerog was none other than the Rector's own son whom he allowed to continue to hold the "Rectorship" of Ballygawley.
To compensate Ballygawley, he appointed the Rev. Thomas Adderley as curate-assistant to his son there. This unique piece of staff-shunting could have been short-circuited by appointing Adderley in Kerog. But, if that young blue-eyed giant once got a foothold in Kerog, it might endanger the Moutray succession in the Ulsterheart parish, a real danger with democracy knocking on the Church door on the eve of Disestablishment.
Some, like the poetess Fanny Alexander, author of "Once in Royal David's City" and "There is a Green Hill" expected total collapse to follow the separation of Church and State. She wrote a special hymn which was sung in Derry Cathedral and other Churches on New Year's Day 1871
"Look down, Lord of Heaven, on our desolation
Fallen, fallen, fallen is now our country's crown
Dimly dawns the New Year on a churchless nation,
Ammon and Amalek tread our borders down.

Lord we have sinned, kneeling down before Thee
Make we full confession, the people and the priest
In our day of plenty little fruit we bore Thee
Oh, the fast forgotten! Oh, the songless feast!"
---
Page 268

But, even the most phlegmatic shuddered at the democratic tremors abroad, and so it was essential to have Maxwell well positioned as the 36th Rector approached his "three score and ten".

Kerog's Vestry met on April 18, but its only business was to appoint the Churchwardens and adjourn till Whit. It was curate-assistant Maxwell Moutray who chaired that meeting on Monday June 6, which simply "Resolved we further adjourn to Saturday evening next at 6 o'clock."

But, at that historic meeting on June 11, which chose Kerog's first-ever Select Vestry, neither Rector nor Curate turned up. So the Chair had to be taken by Churchwarden William Bingham of Annahilla (1810-72). They elected
| | |
| --- | --- |
| James Morrison Esqr | James Simpson |
| Robert Toole Simpson | Thomas Montgomery |
| George Kirkpatrick | John Little |
| James McKeown | William Mulligan |
| John Little | Henry Gervan |
When the Select Vestry met on July 4, the Rector did not sign the minutes of this historic June 11 meeting. The prospects for the Church were bleaker than ever. Corry Moutray had bought the patronage of Kerog in 1803, and Maxwell was in the best possible position to succeed J.J. But, succeed him for what? Gladstone's Disestablishment Act had liquidated the endowments of the Irish Church. Kerog had several that now vanished, like that Hamilton Legacy donated by Lord Glenawley in 1676. Some new financial organization was imperative.
On July 4 the new S.V "Resolved that the Sustentation Fund to be raised in this Parish be at the rate of 2½% on holdings up to the value of £ 30 Poor Rate Valuation. Holdings above that value to pay on £ 30. All subscriptions to be paid on or before 1st Jan 1871." Edmund Moutray was the first Treasurer of this Fund.
The subscription deadline must not have been met, for when the S.V. met on Jan. 28 they reiterated Edmund Moutray's appointment, and appropriated the Churchwarden's Fund for his use. This panic measure was entirely unconstitutional "Resolved
---
Page 269

that at each quarterly meeting the Churchwardens shall hand over to the Treasurer the money collected in the Church on all days except those on which the Holy Communion is administered, or special collections made for charitable or religious societies, to form a Fund for the maintenance of the fabric of the Church, and for the purchase of requisites."

The quorum of four laid down for these statutory meetings on 2nd Mondays in Jan. Apr. Jy. and Oct. contravened the Irish Church Constitution.

But even the transferred revenue was inadequate, so a special S.V. on Aug. 28, 1871 decided to canvass eight Gentlemen who held property within the parish — J.J. Moutray, Sir John Stewart, John Leslie Esqr. M.P., Mr. Peebles, Rev. William Moutray, Mr. Kelly, Mr. Short, and Henry J. McFarland Esqr. The appeal was specifically for "an income for the future Incumbent of the Parish."

The Rev. Moutray brothers must have failed to respond, because the S.V. on 9th Oct. 1871 deputed Thomas Mann, James Morrison, and James Simpson "to wait on the Rev. J.J. Moutray, and the Rev. William Moutray to ascertain their intentions as to subscribing towards the funds of this parish."

The following April 2nd, the Rector put in his last appearance at a Select Vestry, though he was Rector for five years yet, and in Kerog pulpit his place was increasingly taken by his son Maxwell.

On 8th Jan. 1872 Henry Gervan was appointed last Parish Clerk, on a salary of £ 3 p. a. "with a promise of an increase at a later period, should the funds allow."

The Funds got worse. So on 2nd Apr. 1872 the S.V appointed E. Moutray, R. Simpson, Js Simpson, and G. Kirkpatrick, with J. Little of Glencul and Wm. McDonald of Feddan to ascertain from parishioners what they would contribute annually, and report to the next meeting.

By 1874 Kerog finances were still unstable, so on 5th January the S.V. decided actually to pay William Rea and Samuel Smith a fee to "canvass the parish for funds" !

Maxwell Moutray was now virtually acting-Rector. His financial prospects couldn't have been bleaker. He tried to expand his Richmount Printing Works to keep the wolf from the door. Besides, he now knew for certain that the 600 acre Estate which he
---
Page 270
J.J. MOUTRAY BRASS PLAQUE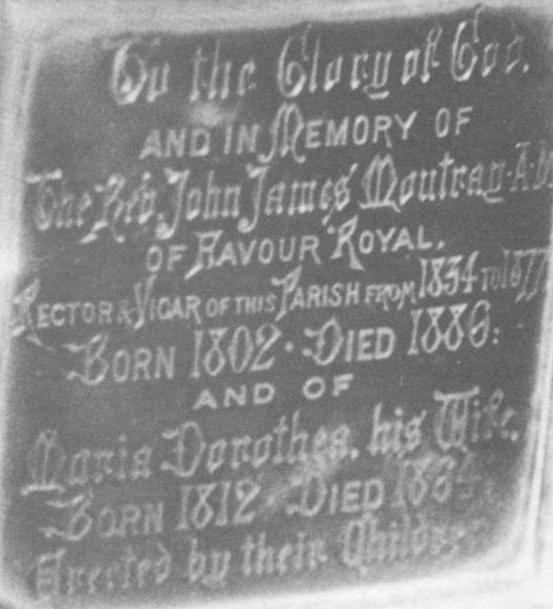 should some day inherit as J.J.'s eldest son would never be his. That bachelor Uncle, the 11th Landlord had disinherited him.
He was probably on the verge of quitting Kerog and Ulster when his aging father under-pinned his whole future by making over to Kerog Vestry an enormous endowment, from the compensation Prime Minister Gladstone paid to the disestablished clergy, along with the proceeds he realised from selling off to tenants the whole townland of Ballinasagart. He knew, since the 4th April 1872, that a further Moutray might follow Maxwell in Richmount, for on that day the old Rector performed his last baptism in Kerog, when he christened Maxwell's baby son, William Per­ceval Moutray.
On 3rd March 1877 the 36th Rector wrote his resignation to the Diocesan Registrar Charles Woods and ended the longest
---
Page 271
MOUTRAY MAUSOLEUM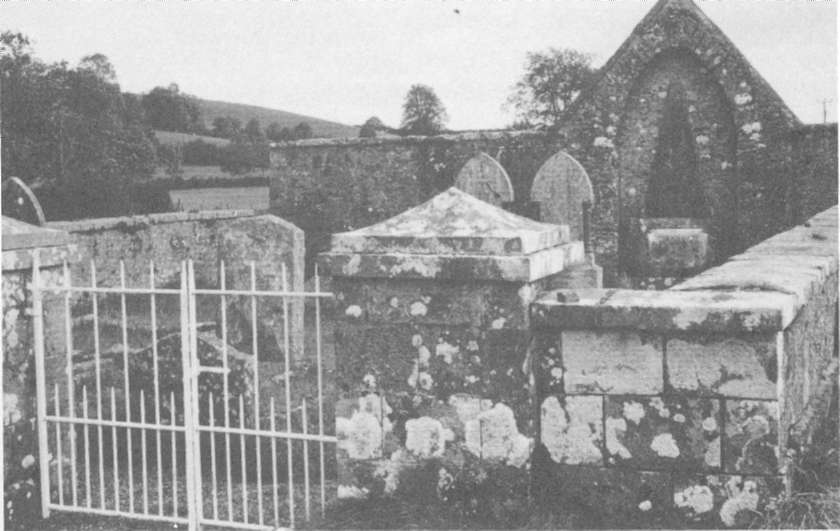 ministry in Kerog history—48 yrs and 4 mths, during which Kerog had lost
in 1829, its East to Ballygawley
in 1835 its South to Portclare
in 1837 its North to Cooley (Sixmilecross) and
in 1864 its west to Augher.
He continued as Favor Royal's 12th Landlord for another nine years, and died there on 20th June 1886, aged 84.