Ulsterheart Chapter 5
The First Evangelist
Pages 126 to 156
CHAPTER FIVE
THE ULSTERHEART CHURCH
"The message of the prophets
is like a lamp,
Shining until the morning star
rises in your heart."


(2 Peter 1, 19)
Page 126
KEROG-THREE HAD 14 Rectors. The first half of these stayed, on average, 10 years, the others 20. The Moutrays of Favor Royal and the Richardsons of Spur Royal inherited from the Erskine heiresses the right to present Kerog with Rectors, turn about.
ANDREW HAMILTON: — Canon Hamilton (Prebend of Kilskeery) became Kerog's 29th Rector on 11th July 1681. His mother was Rebecca Galbraith. His father was Rev. Andrew Hamilton (b. 1613). Canon Hamilton had married Isobel Galbraith in 1661. His son Galbraith Hamilton was a Minor in 1693, and his daughter Isobel married George Holmes of Lislooney in King's County.71
Hamilton was Preacher, Soldier, and Historian, so in 1683 he appointed a Curate to help him in Kerog — John Lawson. To the great annoyance of King James II Kerog's 29th Rector recruited a Cavalry Corps in support of King William. The Enniskilleners sent him to meet King William in 1689. In 1690 he published in London a book with a 25 word title "A True Relation of the Actions of the Inniskilling Men from December 1688 for the Defence of the Protestant Religion and their Lives and Liberties." But he was also a "painful and constant preacher". This doesn't mean nail-biting in the pulpit. When King James said that the new St. Paul's Cathedral looked "awful", Architect Wren was delighted. The King meant that Wren's masterpiece inspired awe or
---
Page 127
wonder. Similarly Hamilton's admirer meant he took pains or care with the preparation or delivery of his sermons.
ALEXANDER MOUTRAY 30th Kerog Rector
It was in that year of years 1690 that Kerog got the first of its many Moutray clergy. Alexander, natural son of the first Moutray of Favor Royal was instituted Rector just 5 months before the Boyne. Archbishop Boyle inspected the parishes in his Diocese. His Visitation Report is dated 15th - 30th Sept. 1693 — "Eregle Keroge 10 — No Impropriator" means that no layman owned the tithes of the parish.
Kerog's 30th Rector must have been referred to as the Rev. Sandy Moutray. How else can we explain Kelly Groves in 1817 (see below) referring to him as the Rev. Sanderson Moutray. The Anglo-Dubliner Groves would not be familiar with the usual Scottish abbreviation for Alexander. The other two Sandys — Churchwardens in 1817 and 1973 — were not descended from this Rector. But he anticipated their concern for the fabric. The 1693 Archbishop's Report says "The Roofe wants some repairs which is ordered to be taken care of and divine offices are performed in it." Services held in the roof? Hardly anything so 'High' in Boyne days!
Archbishop Boyle made another Visitation in 1702, but his Report records only the names of the Rector, Alexander Moutray, the Parish Clerk Joseph Askins, and the Schoolmaster Joseph McAdam along with the names of the Churchwardens for that year. It also notes that the Primate asked for the names of 20 poor people in the parish. Perhaps he had some relief or bounty to distribute.
The following year the Primate's Receiver, Thomas Ashe in a review of the townland of 'Ergill' refers to George Williamson and Andrew Boyd as its tenants, and adds this note "On this townland stand the walls of an old ruined Church which was formerly the parish Church but is now united to Ballinasagart, Mr. Alexander Mootre, Minister."
The sequel to Sandy Moutray's death is somewhat blurred. On 19th April 1729 the name of the Rev. Stewart Wilder was presented, but apparendy he was never instituted, and the man who
---
Page 128
was instituted a fortnight later, died early the following year at the age of 36. He was
JOHN CRAWFORD 31st Kerog Rector. Born in 1694 he was the son of a Fermanagh Farmer. The cause of his early demise is not on record, but if he was in ill health it would explain why he employed a curate assistant the Rev. John Ireland (1729-30). Incidentally this Curate was probably a member of the Ireland family who owned Ballygawley Brewery 50 years later, and a relation of Surgeon Peter Henry Ireland from Ballygawley and Maghera who attended Napoleon on St. Helena.
WILLIAM CRAWFORD 32nd Kerog Rector who was instituted on 22nd May 1730 was the son of Andrew Crawford of 'Carnalia' (perhaps Carnteel), Co. Tyrone. He was born in 1697. So he was only 33 when he became Rector, and might have had a long incumbency but for a fall from his horse in August 1742, when he died at the age of 45. It was now the turn of Spur Royal to present a Rector to Kerog. James Richardson presented his brother —
---
Page 129
GALBRAITH RICHARDSON 33rd Kerog Rector (1711-'80) was instituted on 10th February 1743 at the age of 32. He was called for his grandmother Jane Galbraith of Rathmoran, Co. Fermanagh, and his great grandmother was Mary Erskine, the Favor Royal heiress. In 1743 he married Catherine Wray of Wray Castle in North Donegal, and they had seven children, Wm, Henry, Jas, Jane, Dorothea, Catherine, and Elizabeth. A niece and a nephew of hers were married to Favor Royal Moutrays. His Kerog ministry of 37 years was one of the most important in the whole long story of the Ulsterheart parish. It was dominated by two Archbishops, Stone and Robinson. Primate Stone who is said to have got this exalted appointment by the toss of a coin, after building Thomas Street and Ogle Street in Armagh carried out an inspection or Visitation of his Diocese. On Tuesday 13th August 1754 he found in "Eregle Keroge, the Rev. Galbraith Richardson, Rector, William Little and Joseph Hill Churchwardens".
It was a time of ferment. Oakboys, originating in Kilishel, spread all over Ulster in opposition to Tithes. John Wesley was sowing the seeds of Methodism all over Ireland. Presbyterians were moving in great numbers to the British Colonies in North America. This Ulstertide which precipitated the American Revolution and launched the U.S.A. must have drained Kerog considerably of this fine breed of Ulster Scots, since Ballygawley could not become an independent congregation with a Minister of its own until 1830, 200 years after their arrival in the district.
The Ulstertide carried James Speer and Mary Patterson grand­parents of President Buchanan, as well as the parents of Hannah Simpson mother of President Ulysses Simpson Grant, and probably the antecedents of Presidents Andrew Johnson and Harry S. Truman, and Mrs Duff of Armadale assures me that President McKinley's family lived at Dergina before they moved to Dervock.
Ulstertide Agents recruited emigrants all over Ulster. In the south the Ulstertide Agent was none other than William Neely of Tullylinton. His is one of only 3 stones in Kerog's Wall of Remembrance to bear armorial heraldry. He lived in the farm now owned by Mrs Beatty. During this period also many of the restric-
---
Page 130
tions on Roman worship were relaxed, and priests and monks were able to move around more freely.
In 1757 Kerog Parish was valued by John Martin, Robert Simpson, Robert Buchanan, William Happer, James Neely, and Joseph Alcorn. Twenty years earlier Joseph Alcorn was paying £ 16 - 15 - s to Savill for his farm in Fernamenagh. John Martin of Drumcork had a remarkable grandson Montgomery Martin who was Secretary at Apsley House and in 1840 published the Duke of Wellington's Despatches. In 1833 he had published a significant History of the British Colonies, and was in 1845 Treasurer of Hong Kong. Kerog's 50 townlands were valued at £ 340 - 3 - 8. This is an average of £ 6 per townland. Lismore, at £ 10, was the most valuable, but it is surprising to find that the lowest valued were Sesskilgreen £2, Gort £2 - 10 - 4 and Lisnawery £2 - 13 - 4. The Valuation was confirmed by the Kerog Vestry on 14th March 1757. The only other interest of this Valuation, which someone copied into the 1829 Account Book, is the names of ten of the landowners in these townlands.
In 1765 the Diocese got one of its greatest Archbishops since Patrick — Richard Robinson (later Baron Rokeby). As well as planning modern Armagh, building the Palace and Observatory, he, or someone — perhaps Galbraith Richardson started to take an interest in Kerog's origins. Primate Robinson's Commonplace Book has an inventory, compiled in January 1768, of all the variations that could be found of the spelling of the mysterious name of the Ulsterheart parish:
Kerog
Kerogh
Keeroge
Keiroge
Cheroge
Cherog
Cherok
Geroge
It is interesting to note that by Galbraith Richardson's time no one had thought of establishing a 'rogue' in the parish, by spelling
---
Page 131

it Keerogue — a monstrosity that mars later Registers. This interest in the parish name does not appear to have issued in any documentation of the parish history, unless there had been something of that nature among the many papers which the Archbishop ordered to be destroyed after his death. For the name itself, two centuries were to elapse before the significant equation was made on 16th July 1972.

Kerog was flourishing now. When Galbraith Richardson was in his sixties it got an Hotel and a Rectory. The four-storey Hotel was built at the village exit to Dungannon; according to a lintel inscription it was built in 1773 by Nicholas Pointz — probably the son of Richardson's Clerk and Schoolmaster. A contemporary lease discloses that the Hotelier called his eldest son James, and his second William.

At this time the Church authorities were encouraging parishes to build residences for their clergy to counteract clerical absenteeism. But it may have been Pointz's ventures which inspired the 33rd Rector to build himself a house. Two factors decided its location. It should be somewhere between Kerog Church and the Hotel, and it should be on glebelands owned by Kerog Church. Extensive glebelands ran from Glencul to within a few yards of the Hotel. This glebe townland was called 'Churchlands', and here on a sheltered rise Galbraith Richardson built his Rectory in the late Seventeen seventies, and in the next 185 years it housed eight Kerog Rectors — Richardson, A. Moutray, Graham, J.J. Moutray, M. Moutray, Macmanaway, Maltby, Ingram. As with Fort Single­ton, Newtown Saville, and Anketell's Grove, Richmount is almost certainly an abbreviation of Richardson's Mount. Building must have been in the air, for simultaneously the largest house in the village was built by a leading Presbyterian David Coulter, and faced with a neat oval plaque inscribed "D.C. 1780".

Galbraith Richardson was the only one of the Spur Royal fam­ily to have a memorial in Kerog churchyard. It was subsequently shattered, but this outstanding Rector, sprung from Kerog's 'cradle' (Springtown), got a lasting memorial when Churchlands was re-named Richmond.

For the last 20 years of the 18th century the Ulsterheart was administered by
---
Page 132

RICHMOUNT
Built 1780 by Galbraith Richardson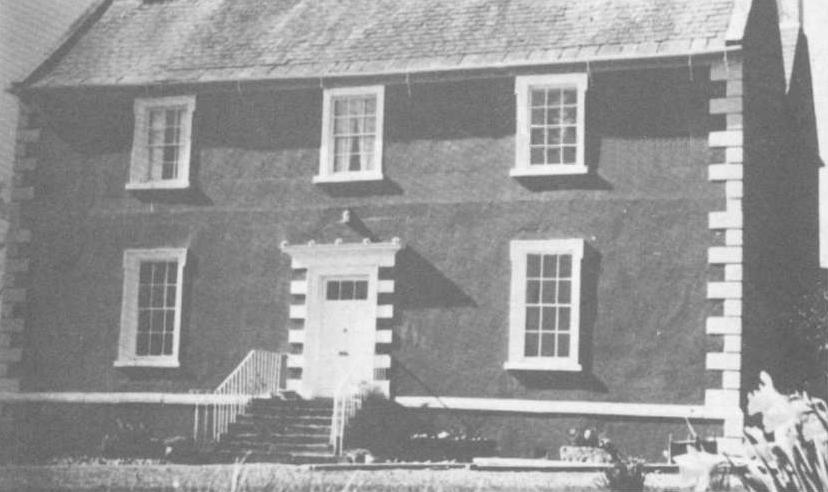 ANKETELL MOUTRAY (1730-1801) 34th Kerog Rector. He had been Rector of Magheracloone 1750 — '64. For the next 16 years his movements are obscure. This is probably because he became Lord of Favor Royal on the death of his childless brother. However, on 14th June 1779 he was living at Glebe Hill, Co. Fermanagh, and he does seem to have had some responsibilities in Errigle Trugh in 1767, and for the last 20 years of his life he added Kerog incumbency to his tenure of Trugh. His younger brother Leslie Moutray built Killybrick. Leslie married Jane Wray of Wray Castle, Donegal, and their descendants supplied Kerog with Vestrymen and Churchwardens for over two centuries.
In 1768 the Rev. Anketell Moutray married Catherine Singleton of Fort Singleton, Co. Monaghan. They had 6 daughters and one son. This son became the most influential Landlord of the whole Favor Royal 'dynasty' — Capt. John Corry Moutray D.L., J.P. In 1782 the Rev. Anketell Moutray bought Richmond from the Richardson widow for £ 688 - 6 - 7½. The receipt is dated 22nd June 1782. When he was 63 years of age he nominated the Rev. William
---
Page 133

RICHMOUNT'S GEORGIAN FACADE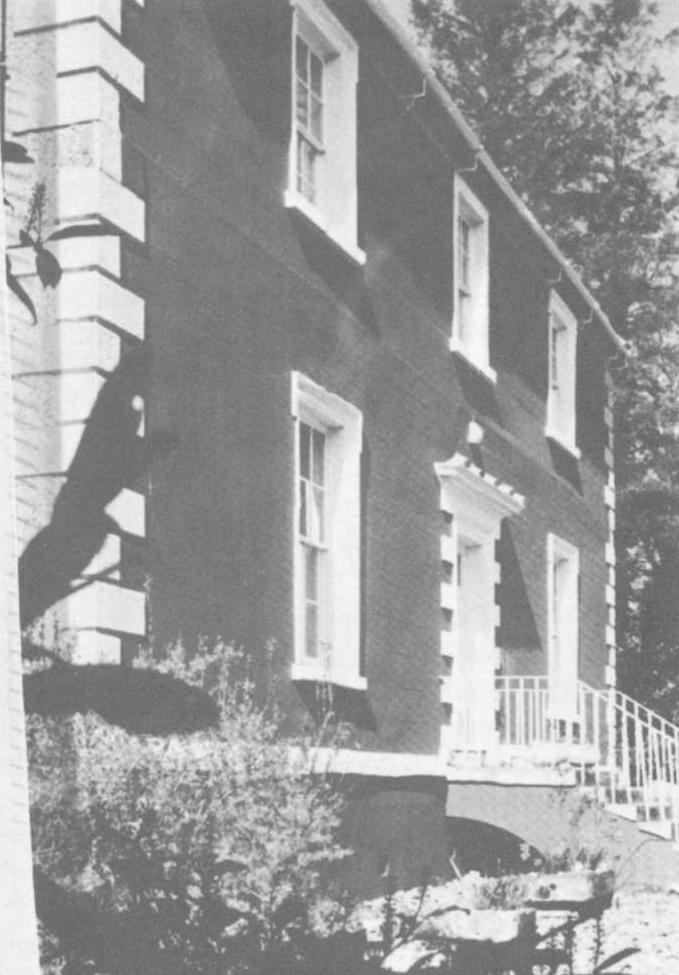 Falls to be Curate Assistant of Kerog on 13th August 1793. Two years later some men from the fringe of the parish precipitated one of the most influential movements in Irish History. After a skirmish with farmers near Loughgall in 1795, usually called the Battle of the Diamond, the farmers formed an Organization to defend their homes against intruders. Extant records all identify these raiders as "men from the mountains of Ballygawley". The
---
Page 134

mutual security organization to which they gave rise is known to the world as The Orange Order.

The following year the Rector's son Corry Moutray, High Sheriff was given authority (20th Sept. 1796) to raise and equip an armed Corps of Infantry to be called "The Royal Saville Volunteers". Perhaps it was this unit which arrested James McCrory and courtmartialled him for administering the United Irishmen's Oath at Ballinasagart Mill. And it was likely the same task force who gave James McDowell, the Ballygawley Blacksmith 300 lashes for making pikes in 1798. Along with Js. McCrory they also found Owen Higney and Nicholas Casey. Family tradition says that for his trouble the Rector's son was offered a Peerage, but declined, because of the expense such status would incur.

KIRKPATRICK'S LOYALTY

In that same year of revolution another local, deeming the pen mightier than the sword, started to write a 300 page book. In 1804 Francis Kirkpatrick of Anahoe, after 6 years of writing, published "Loyalty and the Times".

Kirkpatrick dedicated his book to "The Orangemen of Ireland". He says it is a "full vindication" of their eight year old Order. He reckons they are the champions of freedom against "bigotry and intolerance". The recent Irish troubles he blames on French rationalism seeping into the highest quarters of British society. In his strictures on the 'Corsican Despot' he anticipates the dialectic of George Orwell. Idealism, he says "founded in blood, fostered in anarchy, ends in despotism". "Animal Farm" might have emerged in Napoleonic days but for Kirkpatrick's self-confessed "lack of a regular education". It was probably awareness of this handicap that made him oversensitive to the "hatred of pretended friends". When his manuscript was ready for printing he says it was "arrested on its way to Dublin in the Deny Mail-coach."

The resultant compendium is a jumble of jargon prose and dog­gerel poetry like spliced pamphlets railing against "degenerate Protestants" who seemed to advocate "the utter abolition of Government, and the introduction of universal democracy." Kirk-
---
Page 135
patrick printed in his book the names of 350 people, with their addresses (and sometimes Lodge numbers) who financed the printing, and in his preface singles out three super-loyal locals because of some exceptional encouragement they gave him — Captain Crossle, Thomas Armstrong, and Hamilton Harvey!
Clearly local loyalty was, at the time, more variegated than the threads of a Donegal tweed. Some Presbyterians supported the 1798 Rising against George III. Many R.C.s voted for the 1800 Union with Britain when many of the Lodges were directed to vote against it. And forty years later a leading Protestant intellectual could write of the men of '98
"They rose in dark and evil days
"They rose in dark and evil days
To right their native land They kindled here a living blaze
That nothing shall withstand."72
Small wonder when the ideal of "Liberty, Equality, Fraternity" extolled in Paris was echoed in the "Liberty, civil and religious" echoing from Loughgall.
THE SPEER LEDGERS
In these very years John Speer was writing more mundane matters in his Aughnacloy Store Ledger, and the Ledger of his Mill at Lisdoart. Over 150 years later Lemuel Somerville moved into John Speer's house in Tullybrian. Spring-cleaning a disused barn-loft, he noticed two mouldy old Account Books among the rubble. Any other tenant might "redd" them out, and enjoy the bonfire. Somerville, with excellent historical sense, preserved not only the books, which were now only coverless bundles, but scores of fragmentary notes and loose pages lying in the dust. He had discovered the Speer Ledgers. Packed with evidence of local prices and commodities in the years following 1803, it also records the names of heads of families in the years just before the earliest extant Kerog Registers. It contains the personal account of the Rev. Thomas Murray,
---
Page 136

TULLYBRYAN HOUSE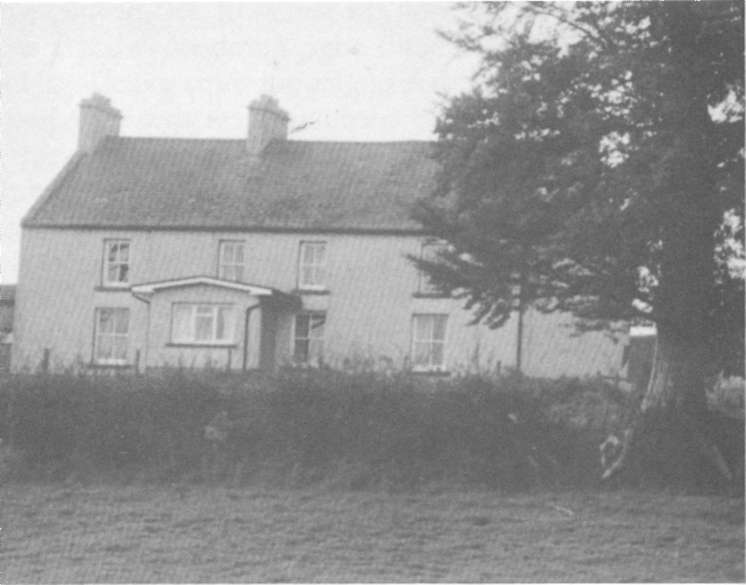 Kerog curate 1824-29, who "passing rich on forty pounds a year" lodged with the Speers, and foddered his horse. But the real jewels of data are on the scraps Somerville found in and around the Ledgers. They are jottings, memos, contracts, printed letter­heads, demand notices, handbills, and an 1827 Poster. The Poster is transcribed in Chapter 6 below. There are handbills about two thoroughbreds — 'Nimrod' owned by Thomas Creighton of Lisnaskea, probably a relation of the three Creighton brothers who lived near Mr. Speer's Mill, where "Creighton Lodge" still stands — fornint Lisdoart Terrace. 'Simpleton' was owned by James Mitchell of Carran, whose family later ran a successful busi­ness in Monaghan.
The Somerville collection includes several short personal letters. Three are of some interest, the barley-seed letter, the Church arrears letter, and the world-scourge letter. The Rev. Thomas Murray cautions that the barley-seed for which he has sent someone called Russel, must not be sterile, by being "put through the Mill". George Speer presses Sandy Moutray for payment of
---
Page 137

Church arrears, although it is clear some of them were due since before Easter, when another Speer was Churchwarden. But it is a letter from "A. Speer" — presumably Anne wife to the above George Speer which best reflects the contemporary predicament. It appeals for rent due on the land let in Ballinasagart, and moans about "the bad harvest, no turf — and what is worse, no money". It adds "I fear we have dismal times before us. The world deserves a scourge, AND WE ARE LIKELY TO SEE IT" !

ABSENTEE RECTOR

Despite the prevalent pessimism, Pomeroy seems to have been a desirable place to live. It was a new parish carved out of Donaghmore in 1775. Its stately new Rectory was built at Thornhill in 1781. When it required its third Rector in 1794 Hector Graham, of the Court of Common Pleas in Dublin, managed to get it for his nephew James Graham Rector of Inishlough (Waterford) since 1789. This was possible only because Hector's daughter Grace Graham, was married to the influential Lord Norbury. When the Rev. Anketell Moutray died in 1801 there was no Richardson Nominee available, so the Archbishop instituted the Rev. James Graham, who now held both parishes — Pomeroy and Kerog until his death in 1834. Since Graham was already settled in Thornhill Rectory, Pomeroy, he decided to live on there, and pay a curate to live in his other parish, Kerog — ten miles away, that is, a two hour journey.

Travel-wise the situation was comparable to having a Rector in 1980 living in Dublin technically administering Kerog. And so for forty years, from 1793 to 1834 services, baptisms, marriages and day to day aclministration were conducted by three successive curates Falls, Murray, and J.J. Moutray.

WILLIAM FALLS (1763-1824) was son of Alexander Falls, a Tyrone Merchant — possibly the Aughnacloy Shopkeeper of that name who was "awakened" by a Methodist preacher in 1802. At 16 years of age he signed on with T.C.D. Tutor Dr. Murray on
---
Page 138

3rd July 1780. He seems to have spent 6 years in College before he got his B.A. in 1786. He was ordained in January 1786, but his 2nd Ordination seems to have been held in Deny 9 years later.

His wife Jane was probably a daughter of John Martin of Drumcork, for it was in the Martin grave that the curate was buried in 1824, and the names of a rejected Martin stone were copied on to a Falls memorial stone. They had at least 4 children—Jane (1787-1856), William Falls, R.N. (1791-1835) who became a Surgeon in the Royal Navy and lived at Crew, another daughter who became Mrs Cairnes, and Robert Falls (1796-1869).

It was during Falls's administration of Kerog that the parish got its first Methodist Church. The novelty must have had an attraction for some Kerogites. One Corn Miller in Kerog told the Rector of Aughnacloy in 1817 that he had been a member of the Church of Ireland before he joined Lisnawery Church. The Rev. Kelly Groves asked him why he had changed over. The Miller complained that one Sunday morning the 'Rector' had enquired about the Miller's oats, instead of enquiring about his soul! 73 The incident may have been typical of the situation Falls had to cope with, and may explain his introduction of a novel factor into Kerog.

In 1780 a Gloucester newspaper owner called Robert Raikes invented Sunday School. It came to Ulster in 1806, and now in 1817 Falls started an S.S. in Kerog.74 For some reason it lapsed in 1818, but was soon revived, and for the next 15 years about 60 pupils were taught in the huge porch of St. Kerog's Church.

THOMAS MURRAY (1802-'40) was assistant-curate of Kerog for 5 years (1824-29). The Rector allowed him to use Richmount, and he farmed some of the glebelands. His neat and methodical Register entries are in stark contrast to those of his predecessor.

JOHN JAMES MOUTRAY was Kerog curate-assistant for 5 years until he became Rector on the death of Graham in 1834.

Rector Graham came down from Pomeroy to preside at the annual Easter Vestry. His wife, Anna Field, was daughter to the Rec-
---
Page 139

tor of Derrynoose, and grand-daughter to the Rector of Mullabrack — Rev. John Jones. They had at least 4 children — Letitia Grace (1800), James Jones (1801) who got his T.C.D., B.A. in 1826, Henry Hope (1808) who Generalled the British Army in the Far East. Isabella Graham married William Lowry R.N. of Drumragh (Omagh), and in 1974 their great-grandson Commander Graham Lowry, was living at Annalong (Glassdrum-mond).

The Grahams, although coming from Ballinakill to Pomeroy, were almost certainly the same family as the Derry Grahams into which the first Harvey of Tullygliss married after the Siege of Derry. They certainly used the same crest.

Paradoxically, it is during the time of this absentee Rector that we get our first close-up look at the ancient Ulsterheart parish!

THE SHAW MASON SURVEY

In 1817 we get our first panoramic look at the parish. After 13 centuries peeping at the Ulsterheart through the eyes of Druids and Saints, Bishops and Administrators, Travellers and Traders, who all recorded tantalizingly small snippets of what they saw, one writer, at last, wrote a comprehensive description of Kerog.

After 20 years of war against Napoleon, the Government wanted to know the state of the country. Shaw Mason, Secretary of Public Records was commissioned to produce a Parochial Survey of Ireland. It took him 5 years to complete his report. He employed local clergy to supply information. Shaw Mason "selected parishes from every part of the country to make each volume contain descriptive tracts of different districts, from which the reader might collect a general view of the whole." In the Primatial Armagh Diocese, with its 130 parishes, only 6 were chosen, and Kerog had the good fortune to be one of them.

The choice of Kerog was not entirely fortuitous. One of Shaw Mason's colleagues was Edward Groves, the greatest living authority on Irish population. Edward Groves supplied a preface on population for Shaw Mason's complete work in 1820. Edward Groves was the son of a Dublin Attorney, and his wife Grace Kelly.
---
Page 140

As well as his statistical work for Dublin Castle, Edward became Rector of Holywood, and married a daughter of the Rector of Omagh. He was the first Secretary of the Belfast Academical Institution but, more to the point, his brother — Kelly Groves was Rector of Aghaloo, the next parish to Kerog.

Kelly Groves was 70 years of age when he was asked to write an Essay for the Shaw Mason Survey. Why he chose Kerog is not apparent. Did he consider it had more antiquarian potential, or was more topographically typical than Aghaloo? It was unbelievably good fortune for the Chronicles of Kerog that there should be a literary person on the doorstep of the Ulsterheart at the very moment when Shaw Mason was seeking contributors to his monumental Parochial Survey.

The 45 page Kelly Groves essay on Kerog runs from page 137 to page 182 of volume III (1819). It consists of over twelve thousand words on Kerog's geography, its people, their lives and their homes. There are 12 sections
| | |
| --- | --- |
| 2. Geology | 8. Religion |
| 3. Modern buildings | 9. Agriculture |
| 4. Ancient buildings | 10. Industry |
| 5. Population & Food | 11. Curios |
| 6. The Poor | 12. Recommendations |
The material supplied by Kelly Groves was edited in Dublin Castle. Domestic anecdotes, irrelevant to Shaw Mason, may have been excised. The published essay certainly contains dislocations, inconsistencies, and even errors. Kerog's 35th Rector is said to live in Fermoy. Fermoy is in West Cork, two hundred miles from the Ulsterheart. It was more within the ken of Dublin Castle secretaries than the highest town in remote Ulster would be. Pomeroy, then as now was pronounced 'Primroy'. Church fabric is described in two separated sections, and so is the local linen industry. Reference to the raths or craigs of Tullyglush is followed by a 278 word paragraph on "this spot", but the spot he proceeds to describe is clearly Rathmore, Clogher 7 miles west of Tullyglush. If all this is the result of editorial dislocation, it has one amusing
---
Page 141

result, for under the heading "Natural Curiosities" he lists the Rectors of Kerog ! 75

KEROG PANORAMA 1817

PLACE. Kelly Groves favours the spelling 'Keroge', since it is the spelling in the 1610 Ridgeway Grant. He pinpoints the Church at 54;23 north latitude, and 7;22 longitude "west of London". He delineates the parish boundaries on certain rivers — except the west which ends on "an imaginary line from Cloghermy (sic) to Clogher". On the north it ends at the headwaters of the Strule, and on the south on the banks of the Blackwater. The east has two watery boundaries. It is separated from Aghaloo by "a considerable stream which falls into the Blackwater". "From Kilishel it is separated only by a line through the middle of Martray Lough."

LAND. He says there is little level land in the parish. The "gently undulating hills in the south are universally good land." The strip from Arthur's Church to St. Matthew's and from thence to the village is "particularly good". So are the "occasional tracts" in the northern hills. For "picturesque scenery" he cites "the glen called Todd's Leap" with its "variety of wild views". Unfortunately Kelly Groves does not record any contemporary explanations of this placename. Some in 1978 say the defile is narrow enough for a frog (toad) to leap from one shoulder to the other. But, since the surname Todd is found in the vicinity, it is conceivable that it was called for one of that family. The only other curios he mentions are fossils of shells and water-lilies where the Enyrwater enters the Blackwater.

BUILDINGS. Raths are numerous. The "Most remarkable" is the Craigs of Tullyglush. Did the summit of Greenhill look more impressive in 1817 than it does 160 years later? Elsewhere, Kelly Groves calls it a "precipice"! Apparently the Stewarts, when they arrived in 1811 anglicized the name. But were they correct when they interpreted Tullyglush as Greenhill? The gaelic for green is not 'glush' but 'glas', and the earliest recorded vowelling is neither
---
Page 142

of these. The most ornate stone in Kerog churchyard is the memorial of Thomas Harvey of Tullyj'/m. Some glistening granite may have surmounted it in the distant past if it were the site of a llys — Cymric for a Court or Palace.

Kelly Groves noted that 'Grange' indicates tithe-free Abbey lands, and someone pointed out the site of a religious building, but Kelly Groves could find no ruins. He says the Sesskilgreen Pillar "served as a rubbing post for cattle".

ARTHUR'S CHURCH. All Groves can say of the 1383 Church is

(a) "the ruins stand on an eminence in the townland of Errigall-Keroge
(b) walls very decayed
(c) walls not very thick
(d) original workmanship "not good"
(e) search for ancient inscriptions, unproductive.

ROUND TOWER. At Ballinasagart or Priestown Kelly Groves was told that the foundations of a Round Tower had been seen "within ten years". If the estimate is correct, McKenna must have removed this trace of ancient Celtic Christianity about 1810. As explained in chapter 3 a Round Tower would be an anachronism when the first ecclesiastical building was erected here in 1489. McKenna told Groves he had removed the lower courses of a Round Tower. A ruined Franciscan apse could well be mistaken for a segment of a Round Tower. Latter day McKennas identify the knoll on the Carren side of the road opposite their home as the site of former ecclesiastical buildings, and even the passing motorist can see vestiges of paths in the springing sward.

MOTENTR CASTLE. Of Hamilton's Castle at the village he saw
| | |
| --- | --- |
| (b) | defenders' ramparts |
| (c) | considerable vaults of unhewn stone |
| (d) | dwelling quarters reduced to a one-storey thatched cottage |
| (e) | the ghost-room where a spectre left its grip marks on the wrist of Nichola Hamilton Beresford |
| (f) | a silver-variegated holly bush with 7ft. trunk which was 2ft. wide and 6 ft. in circumference halfway up. Its large head ta­pered at the top. The famous English Philanthropist John Howard, on one of his Irish journeys, commented that he never saw so large a variegated bush. |
---
Page 143

Incidentally, a relation of his, Sarah Howard Hipwell lived at Richmount for its last 4 years as Kerog Rectory. And we might speculate that this conspicuous holly bush was a Hamilton transplant from Sweden which thrived in our softer Kerog climate. Although Groves says that little of the castle at Ballygawley survived, he must have seen quite a lot since he describes it as "the most extensive remains of antiquity in the parish" just after he had described Garvey Castle — the bawn in Lismore with its 9ft. walls and higher towers.

ST. KEROG'S. But, of greatest value is Kelly Groves's description of the Ulsterheart Church since no other description is known to survive.
Built from friary "ruins". If he is using the correct word here, it means that Hamilton's builders in 1622 did not actually de­molish the Franciscan Friary.
It is a "long building".
"Very sound in every respect"
No spire or steeple
Bell hung on western gable
Doorcase its "only specimen of ecclesiastical architecture" (Does this mean the windows were not arched or pointed?)
The Waltham Memorial Stone is the HEARTHSTONE for the porch fireplace.
Church "kept in very good order"
Constant attention paid to its cleanliness
It is neat and COMFORTABLE
Has a LARGE HALL or vestibule
Porch fireplace warms everyone before the service, but is of no use to the BODY OF THE CHURCH.
Correctly Sexton McKeown could in November 1973 recollect Edmund Moutray saying that the old church was 'very long\ And, incidentally, the 1814 Kerog Account Book makes it clear that the Ulsterheart Church was then thatched.
---
Page 144

SKETCH OF ST. KEROG'S CHURCH 1622-1832 by C.B.I. (Cecil Brett Ingram)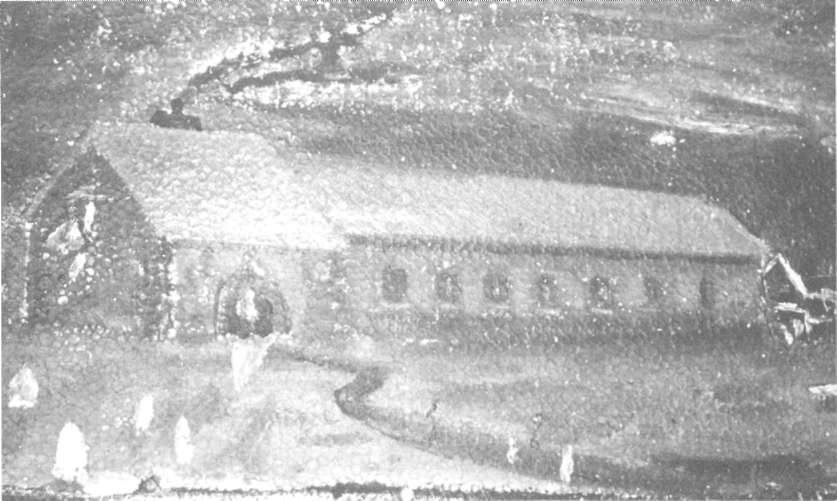 Kelly Groves gives 2 imperfect lists of the Rectors of St. Kerog's. In its 210 years it had altogether 14 Rectors. Kelly Groves names six in one list and ten in the other. The longer list, copied "from the First Fruits records" has a 1730 spelling of the parish name not included in the inventory in Primate Robinson's Com­monplace Book — Errigale-Keerogg!
Kelly Groves adds that Kerog Rector James Graham was getting £ 400 per year from the townlands of Gort and Churchlands (Richmond). This would be the equivalent of £ 4,000 in 1980, and he had a larger stipend in Pomeroy.
The tithes were wholly in the hands of the Proctor — 8 shillings per acre of best oats. Small wonder the farmers were agitating for a rate proportional to land value.
THE POOR Twenty seven people got relief from Church funds. Consequendy these 27 were not allowed to wear Beggars' Badges.
RESIDENCES. He finds only four "Gentlemen's" residences in the parish. He spells the Right Honourable Sir John Stewart's home as Green-Hill, but later in the same paragraph, without the
---
Page 145

hyphen. George Spier has a "neat specimen of the cottage style in Cleanally". Richard Armstrong lives in "the remains of Ballygawley Castle". The fourth is "the Glebe House" — "BLEAK" because all Richmount's trees had been sold off by a former Incumbent. He feels that Richmount is "not in the order that a resident Incumbent would wish". But "the genuine ornaments of a country" is Kelly Groves's impression of the "great number of excellent farmhouses suggesting ease and comfort."

MILLS. Groves found 5 Corn Mills—Ballygawley, Lisnawerry, Foremass, Cleanally, and Garvaghey, with a Tuck-Mill at Culnaha for "finishing woollen cloths manufactured at the farmers' houses".

MARKETS AND FAIRS. He found there were markets every Friday, and 6 Fairs every year — held 3 weeks before and after May 1, August 1, and November 1. Then, in 1812 a Linen Market was started, and held every second week with incentives — prizes of 15, 10, and 5 shillings for the three greatest quantities sold, and five shillings and half-a-crown for the "best wrought pieces".

ROADS AND BRIDGES. Groves found only two principal roads in Kerog — the "Deny mail-coach line" costly and needlessly broad "at a distance from the town" causing "an unmeaning waste of land". He hastens to add that a wide highway is necessary near towns "where pigs and sheep may stray in front of carriages and cause road accidents."

The other Kerog road he calls "the new line of road for two miles towards Augher". He notes it is more level and shorter than the old road over the hills, and then gives it superlative rating — "the best made road in this quarter of the country"—Ulster? He says it is "insulated" (does he mean isolated or situated?) between the neglected Caledon-Aughnacloy road over the Clogher Hills. He surmises that the old road "purposely ran over the hills".

He saw five bridges. The one over the Blackwater and the one in the village both spanned 36 ft. He saw a 4 arch bridge one half mile below the village, and a larger and higher 2 arch bridge at Drumcork. He marvelled at the "great pile of a bridge over a small
---
Page 146

rivulet at Ballymacelroy on the mail-coach road", but concludes that its proportions are intended to surmount the winter floods from the hills.

KEROG'S ONLY VILLAGE. Kelly Groves informs his readers "there is only one village in Kerog parish". Ballygawley contained no Church, though the Presbyterians had walls built but lying for some time un-roofed. He noticed four public buildings in the town—a Hotel, a Medical Dispensary, a Brewery, and a Glove Factory.

The "good Inn kept very neady" was undoubtedly that owned by Mr. Pointz, later called the Stewart Arms Hotel. "A Brewery has also been established, which seems to be going on well." The wording suggests recent enterprise, and may well be the investment implied in the opening paragraph of his section on the village — "under the encouragement this village has received from its present Landlord it has considerably improved." When the Stewarts bought Tullyglush from the Gorges of Kilbru in 1811, and decided to re-face and live in the Harvey House in lower Tullyglush, they may well have encouraged the Armstrongs of Ballygawley Casde to develop the potential of the Enyrwater. For some reason a new bridge was built in 1815. The neady inscribed plaque bearing the date is oddly on the riverside, instead of the roadside. Perhaps there were river walks or gardens from which the inscription could be viewed. However there is some evidence of some brewing in the vicinity over 30 years earlier.

Kelly Groves also mentioned a Glove Factory. Though it is "a small factory — from the goodness of the material, and neatness of the workmanship the gloves are in general demand throughout the neighbourhood, and are often sent some distance." "The conductor of it could have work for more hands than he usually employs, but he seems contented with the regular consumption of what he makes."

Kerog's only village had 140 homes, 20 of them two-storeyed, 59 one-storeyed, and 61 cabins. He doesn't clarify the difference between a one-storey house and a cabin. Perhaps a cabin was a wooden, or even earthen shack. He did note that there were also 9 empty cabins, and a couple of one-storeyed houses uninhabited, making a village of 151 houses.
---
Page 147

But the predominant impression made by the observant Kelly Groves was "Ballygawley had too many whiskey shops, and lesser houses of entertainment."!76

PEOPLE. Kelly Groves quotes the 1813 census which found 1259 families in the whole of Kerog. 937 families were engaged in agriculture, and 249 in trade. The total 1813 population was 6,736: 3,304 male, and 3,432 female. Since there were just over 5 in the average house, Groves computes that there was about one soul to every acre.

Still, Groves noted that their DRESS was "respectable, and above what would be called decent"; he noticed particularly "the young women seem rather satisfied with good clothes than desirous of fine ones." Oddly enough this sartorial edge was observed by another newcomer in 1960 — a decade before he found the Shaw Mason comment. Perhaps the proximity of textiles had a lasting effect.

LANGUAGE. There must have been plenty of Gaelic spoken in 1817 Kerog, for Groves notes "It is now unusual to meet anyone who cannot explain himself in English." He mentions the "beauties and energies of Gaelic", but feels "its decline facilitates intercourse and business, and the harmony produced by a collision of ideas."

KEROG SAUNA. Kelly Groves found "among the mountains" an anticipation of modern Turkish baths and Saunas. He calls them 'Sweat-Houses'.77 The aim of the therapy was to cleanse the body by induced perspiration. The operation took place in "small hovels partly scooped out of the hillside". It is "chiefly used for rheumatic pains". "The patient stretches himself upon some straw." "The entrance is then closed up with rods." Similar holes adjacent to the occupied one are then filled with smoldering turf. The patient sweats violently, because of the heat close by. The patient endures this "so long as he, or his physician, thinks proper."

CUSTOMS. The only folk-custom Groves noticed was the Mid­summer Bonfires on June 23. Attendant features may have included some very primitive tests, reminiscent of Red Indain fire-
---
Page 148

walking, and King Ahaz who about 730 B.C. made his sons to pass through the fire (2 Kings 16, 3). Dr. Gillespie has drawn the author's attention to a proviso for the appointment of Presbyterian Elders a few years after Kelly Groves's observation. Prospective candidates in the Aughnacloy congregation had to promise that their children had not "passed through the fire". Incidentally in 1850 the Rev. William Moutray noted a "Popish bonfire at Toal Devlin's".

CHARMS. Groves tells us that the R.C.s in Kerog believed in the power of 3 relics preserved in other parishes — a bell, a box, and a book:—
The Termon Clogh. A tongue-less bell concealed in the ruins of an old church near Carrickmore, until it revealed its presence by ringing out at the approach of some holy man.
The Donagh—a box kept near Brookeborough, containing secret relics under a brass relief of Jesus and the Apostles.
The Balagh-Dthownagh—a book kept in Tydavnet, near Monaghan. Groves says these interesting objects were lucrative family heirlooms — their power, proof of the "peasantry's thral and neglect".
Groves said he heard Gaelic speakers swear by the THEIM-ORBIM. They affirmed the truth of what they said, by the phrase "I'd venture my head in the Theim-orrim." This was explained to him as a sort of primitive lie-detector—a trap into which a suspect was obliged by his religious superiors to put his head. If innocent he could withdraw, if guilty it decapitated him. Whether there ever was such a mechanical adjudicator, the name given it is interesting. Theim-orrim is strangely reminiscent of the Urim and Thumrnim, nondescript objects kept in the breastplate of Jewish priests since the time of Aaron (1400 b.C.). They are first mentioned in Exodus 28, 30 and subsequently consulted on occasions of important decision.
EDUCATION. Groves noticed that the Kerog children showed curiosity, but their parents couldn't afford to get them properly educated. There were 3 or 4 country schoolmasters, and Groves quotes their scale of fees:—
---
Page 149

2 shillings per quarter (3 mths) for Spelling and Reading>br> 4 shillings per quarter for Spelling, Reading, and Writing
5 shillings per quarter for Spelling, Reading, Writing, and Arithmetic.

They compensate for unpaid fees by a rotation of dinners at the parents' houses. The schools had no proper textbooks—just old novels and pedlars' books.

The Sunday School took 37 years to penetrate the Ulsterheart. Robert Raikes, a Gloucester newspaper owner invented it in 1780. Kerog Sunday School began in 1817. It started with a Roll of 60, but was soon suspended, because of sickness. Does this mean Groves was drafting his notes during the season of highest 'flu incidence — say February 1818? He concludes "It will most likely be resumed."

AGRICULTURE. Kerog had
705 small farms (less than 20 acres)
34 medium (30 to 40 acres)
7 large (40 to 60 acres)

Land could be rented for an average of 38 shillings per Irish acre, or half-a-crown for mountain land. There was no Ulster Farmer's Union in 1817, so farm labourers were paid 12 pence—and 9 pence in the short winter days. Because the winter days were shorter there was no dinner break in winter. A servant living in the farmhouse got 2 guineas per half year. Women servants got one guinea, and were expected, in addition to their round of housework, to spin 6 dozen hanks of yarn every week.

All these rates of pay were barely half the pre-1815 rates. That was because of the "great depreciation of farming which took place upon the Peace." Kerog farmers must have been profiteering during the 20 year war against Napoleon. Slump followed Waterloo! Groves observed "The price of farm produce has produced dejection among the farmers, and absolute despondency among the labouring classes"78 aggravated by the drenched harvest of 1816. Groves deplores the fact that "this portion of the Empire flourished most when England was under the pressure of difficulties."79 Apparently those who had speculated by investing in highland farms were the worst hit by the postwar recession.

Kerog crops were principally oats, potatoes, and flax—"that
---
Page 150

happy source of industry which Ulster enjoys, keeping its young from the contagion of the factories." Linen occupied every family, more or less. There were no bleach or Linen Mills, but every home had a loom or two. Small wonder that the new linen market sold 9,360 yards of 52 inch linen.

RECOMMENDATIONS. Kelly Groves sums up his panoramic report on 1817 Kerog with a few suggestions for improvements.
Neatness and good management are apparent in the country­side, but they are cautious of novelty.
"If the poorer farmer who leans idly against the doorpost would clean out the pigs, his wife would have more leisure for the wheel."
Well-wishers should act from fellow-feeling rather than charity. Clearly someone was sensitive to being patronized!
The Rector, or some local Gentleman should start a Bank for savings.
Tithes are co-aeval with and as justified as hereditary succession. If tithes disappear, rents and taxes will be the next targets for abolition agitation.
Improvement requires a combination of Benevolence, Intelligence, and Wealth.
'Waterloo' Kerog
The oldest Kerog Account Book which has survived contains a record of parish expenditure for the last 18 years of St. Kerog's Church, so it supplements the Shaw Mason essay with some do­mestic detail.
The earliest Financial Report in this Account Book is that for the year 1816. The first entry is a payment of 8 shillings and 8 pence (43 p) "for this book". Someone has copied in some of the expenditure for the previous two years.
In 1817 the management of the parish was in the hands of the Churchwarden. He was responsible for all expenditure during his year of office. The stipend, and any other diocesan taxes were handled by two other officers — the Apploter and the Collector who were paid a fee for their services. Fifty three years later Select Vestries were invented — a 12 per-
---
Page 151

son sub-committee to sanction all expenditure on fabric and wages. The Churchwardens' prerogatives have remained intact. All unallocated revenue ('loose money on the plate') is still at the disposal of the Churchwardens, and is especially appropriate as petty cash for anything requiring immediate attention (the stitch in time that saves nine). Some 20th century Treasurers have usurped the Churchwarden's prerogatives. This leaves no petty cash for trivial or emergency expenditure. It is like a business concern requiring the Board of Directors to meet before purchasing a postage stamp or an electric bulb.

Alongside a Treasurer who often holds office for 20 or 30 years there should be 20 or 30 people with first-hand experience of handling parish accounts. A Treasurer's monopoly would produce immobilised and demoted Wardens. Need we look elsewhere for the cause of latter-day congregational impotence and apathy? The noble, ancient, and efficient Churchwarden is reduced to being a plate-pusher.

The first Kerog Churchwarden whose accounts have been preserved was Richard Armstrong of Ballygawley Castle between the modern police station and the Enyrwater weir. He was Kerog Warden 1814 - '15. The dated and detailed Church accounts from 1816 on provide, even in the most trivial items, fascinating clues to the domestic talking-points of 160 years ago. At first glance the accounts seem to range from the prosaic to the pathetic and even macabre but, on analysis, they are revealing. Select Vestries now deal with Finance and Fabric. The Churchwardens of St. Kerog's managed both these items single-handed, and they had also two other Fs on their agenda — Foundlings and Funerals.

FABRIC. Under this heading the Churchwardens had 4 buildings to provide for — Church, Sexton-house, School, and Stable. He had to provide maintenance, furnishings, fittings, and fuel. He bought paint and slates, glass and putty, thatch-straw and scollops, sand and lime, stones and gravel, shovels and ladders, locks, hinges and nails.

The 1819 Warden paid Captain Moutray "two pounds for 200 slates purchased by him in Newry" — one penny per slate. Incidentally Captain Moutray was Alexander Moutray an officer in the
---
Page 152

Wexford Militia who himself had been Churchwarden in 1817. He had just built Ballinasagart House, so he knew the best place to buy slates. His grandfather was Lord of Favor Royal, and the Landlord now, Corry Moutray, was his 1st cousin.

For several years there was a payment to John McCoy for repairs to the 4 buildings, and later to James McCoy, but in 1826 three shillings was paid to "James McCormick for repairs to the Church Lock."

On 3rd February 1816 Churchwarden John Speer of Tullybrian paid 6 shillings and 3 pence (31p) for "3 barrells of coals" and 7 shillings for its carriage. But, for the last 15 years of St. Kerog's turf was used. The 1828 and '29 accounts contain the entry "To Thomas Eagleson for turf four shillings".

FINANCE. St. Kerog's had a staff of at least eight. The Rector's remuneration was not the concern of the Churchwardens. James Graham, as well as having over one thousand pounds as Rector of Pomeroy got at the same time £400 from the townlands of Gort and Churchlands (Richmond). His complete salary corresponded to a salary of over twelve thousand pounds in 1980. From this he paid a Curate forty pounds per year to live in Kerog, and administer it.

But if he had no Stipend worries, the Churchwarden had to pay Sexton, Clerk, Singers, Apploter, Collector, and 3 or 4 School­masters. The annual rates were

Schoolmaster £ 5 p.a.
Sexton £ 5 p.a.
Singer £ 5 p.a.

Instead of an organ, the 'Singer' led the choir. The Parish Clerk answered the responses. The Apploter's fee was eleven shillings and fourpence half-penny. The Collector's fee was £ 2, ten shillings. Four schools are alluded to, including Lismore, and Lisgonnel. Incidentally the Singer in 1816 was a John Conn.

The Churchwardens made two other kinds of payment every year. Probably because tithes (tenth of income) were collected from all the population, he allocated £ 25 per year "to Mr. Coulter
---
Page 153

for the Presbyterian Meeting-House", and ten pounds per year "to Pady McKena for the chappie", while in 1824 there was £ 10 "For Repair of Chappel".

FOUNDLINGS. The six hundred payments in these accounts include no reference to Missions, though Protestant Foreign Missions were by then over a century at work. What St. Kerog's didn't spend on overseas extension it certainly spent on local welfare. The Accounts mirror a full-scale child rescue service, and a com­plete Funeral service.

Unwanted babies were numerous. They were dumped behind turf stacks and under hedges. When found they were called Foundlings. During the last 18 years of St. Kerog's foundlings were the biggest single demand on the Church Funds. In 17 years there are no less than 124 payments for foundlings. It is difficult to count the number of babies involved, because often there is more than one outlay for the several requirements of one child. But we can be sure that there were at least four unwanted babies (presumably illegitimates) found in the district every year!

The Church paid certain women for giving foundlings a home. We find payments to Cate Quick, Cate Martin, Molly Farrel, Elizabeth Teague, Maty Seaton, Molly Kelly, Hester McFaddin, Rose McGarvey, Bridget McNamee, Margaret Martin. The usual rate was sixpence (2½ p) per night. One payment to James Hughes on 1st April 1821 is itemised as "for one year's diet for foundling".

There were special payments for clothing, and in some cases the tiny wardrobe is specified—"two shirts, two slips, a petticoat and bodys for foundling" — costing six shillings in Sept. 1818.

Many of the children were conveyed to the Dublin Foundlings' Hospital. The £1 - 8 - 2 was presumably the return stagecoach fare for the chaperone. On 29 March 1817 Betty Hughes was paid a larger sum for an obscure journey — "sending foundling to credle and back again". There are even stranger entries. In 1824 John Neely got four shillings and twopence "in part payment for keeping a foundling", and one shilling and eightpence was paid "to a woman in his house for karying (sic) it to where it was born".

There were awards for anyone who could unmask the culprits. On 23rd August 1822 one shilling and fourpence was advanced
---
Page 154

THE EDEN STONE ON ARGEL HILL)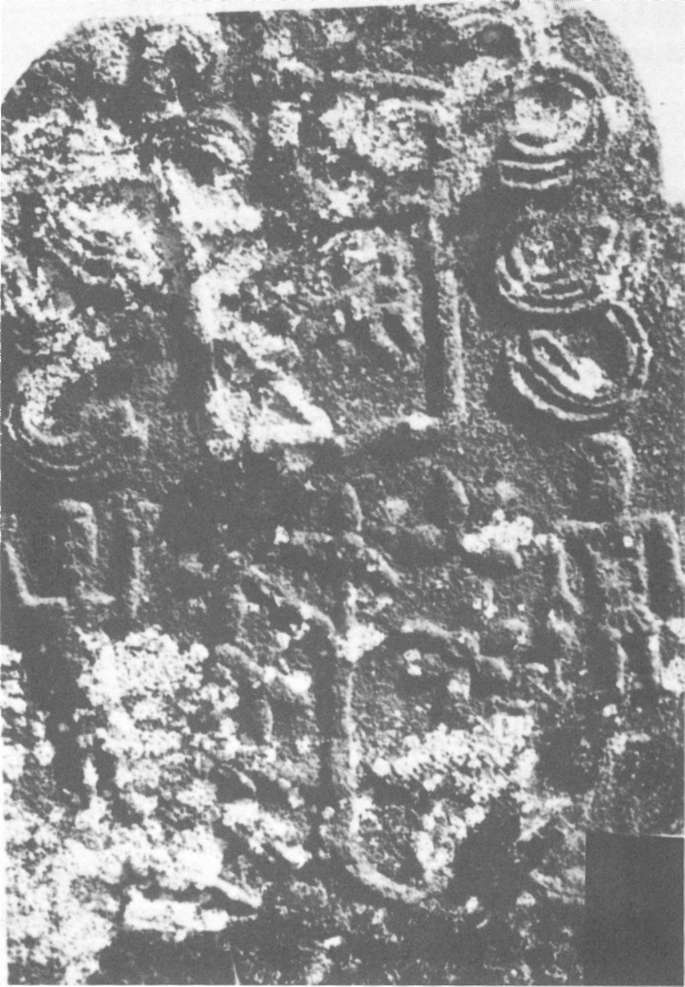 "To John McAlmigh for serving summons to find out the mother of a child". He was successful, and four days later the Churchwarden paid one pound to John McAlmigh "for finding the mother of a Foundling".
FUNERALS. At the other end of life, the Church provided a full Undertaking service, and the Accounts recite all the macabre ac-
---
Page 155

HANNAH SIMPSON'S COTTAGE
ancestral home of President U.S. Grant)

coutrements. Scattered all over the accounts for 18 years there are payments for calico (greay caligo) Flannel, thread, tape, deal (timber) and nails with larger payments for coffins made by several named carpenters in the parish. Most of these burials were not Protestant, and the Wardens sometimes provided trimmings they hardly approved of, as on 19th March, 1817 "two deals, nails, and candles for Margrett Macklin" 6 shillings and 7 pence.
Often the entries are gruesome in their brevity — "nails for Mary Adams", and in January 1817 "two deals and nails for a woman that was in Kitty Martins". On another occasion it is "coffin for hary McGarry's wife" and the pathetic "one leaf of deal and nails for a child".
As well as Fabric, Finance, Foundlings, and Funerals, the Churchwarden's Accounts cover a wide miscellany 11th January 1817 "Reimburse James Speer of Fedin for a Blankett for a poor woman". There are quite a lot of legal fees for bonds, and process, and attorney.
On 6th May 1817, 3 shillings and 4 pence was paid to the cur­ate, the Rev. W. Falls for "2 packs Message Card and 2 stick of
---
Page 156

ARCHBISHOP JOHN WARD ARMSTRONG
Irish Primate 1980-'86
Great Grandson of Hugh Armstrong, Kerog farmer)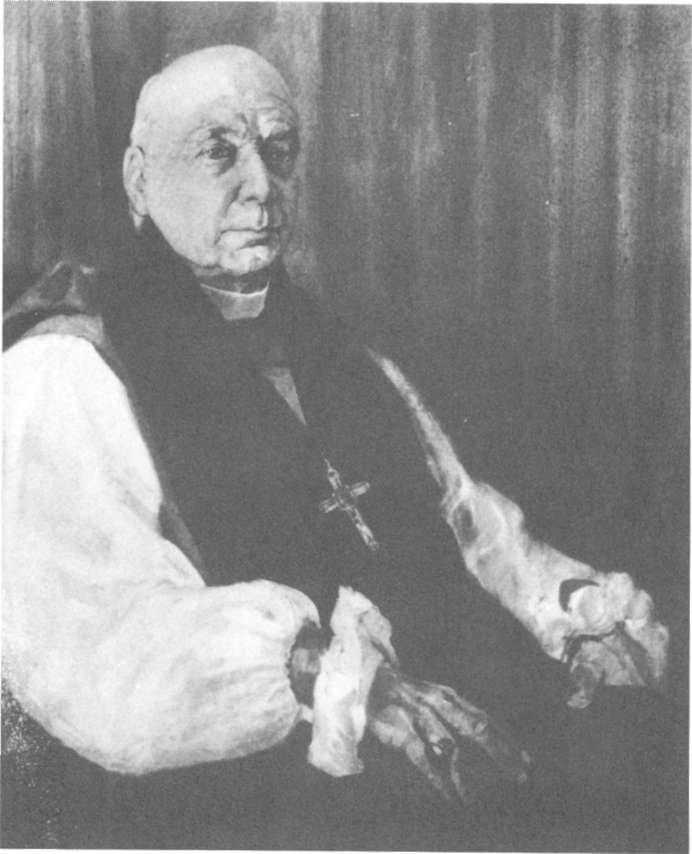 wax for Badges". Beggars badges, authorising the wearer to beg in the district, were issued to any poor people who were not already receiving Church relief.
In 1818 there is "one quire of paper for the Sunday School", costing ten pence. It cost ten shillings "To build pegy Rusde's Cabin". "Carriage of books from Dublin" in 1823 cost 7 shillings and 4 pence. The following year the Sextoness got a "cloak" for one pound, 2 shillings and 9 pence, and Susan Mains got one shilling "for washing the surplus" (sic), and 2 shillings and 6 pence was paid for Sunday School books. These last three items may have been the result of the arrival of a new curate — the Rev. Thomas Murray.
Chapter 5 ends on Page 182