Ulsterheart Chapter 6
Prodigal Daughter
Pages 196 to 200
Chapter 6 begins on page 183
Page 196
Freddan Church will be only one eighth of a mile nearer to Favor Royal than the old Church is. Moutray climaxes his observations with the conclusive justification for selecting Feddan. Ballygawley was in the east end of the parish. But, of Kerog's 230 families "one hundred and thirty dwell about, and to the southward of the Church." If the village contained 47 Church families, there were 94 in Feddan and the southern sector—Feddan (10), Crossbwee (6), Drumcullion (12), Cullem-brawn (18), Derrymeen (8), Lismore (18), Lisnawery (11), Roughan (11).
Feddan Church would be happily poised between the village and these other concentrations. He could have added that the villagers had also the advantage of a clergyman living on their door­step—in Richmount.
Two days later, Stopford corroborated Moutray's "Observations". He assured Primate Beresford that Curate Rev. Tom Murray's return tallies with allegiance figures on the official map by Sir Francis Clarifice. He added one weighty factor—"Mr Moutray ought to have added that Sir Hugh Stewart was perfectly satisfied with the proposed site."
The Feddan project vindicated, Stopford assured Beresford he would support him, should the Primate pander to village objec­tors by erecting some small "Chapel-of-Ease" in Ballygawley, in addition to the new parish Church at Feddan. But he ends with this caution—"I mentioned this to Mr. Moutray, and he said Kerog was too small and poor to support a "Chapel-of Ease"— prophetic words!
FEDDAN OUTRAGE
Tempers rose in the summer heat. Social temperatures were high in these years. The year 1822, for example, had a riot almost every Fair Day in Ballygawley. News of industrial violence in the English North was now seeping through to the Ulsterheart. Machine smashing, to preserve the employment of handloom weavers, had reached a peak during the past twelve months.
On the night of Sept. 4 Lisdoart Mill was attacked, something was destroyed, and a quantity of carpentry tools stolen. Oddly enough the leading Trade Union activist in Lancashire was Ulsterman
---
Page 197
John Doherty, and the Carpenters' Union was founded in 1827. Of course, when Corry Moutray's "Observations" exploded Mann's Memorial, some village fanatics may have contemplated a do-it-yourself construction of a village church. Carpentry tools would be useful.
If Speer, the main Merchant Supplier had refused to supply materials it might explain the boycott of John L. Speer's Mill at Clonully, right beside the old Church.
Whatever the process of combustion, flashpoint was reached ten days later. On the night of September 14, the owner of the Feddan site, Mr. Thomas Bingham, was assaulted, and a shot fired into his house. His neighbour, Frank Neely had a churn and a vehicle smashed.
The 1827 crisis had distinct traces of class revolt against clergy and property owners. The whole episode was hardly unconnected with the Christian communism Robert Owen was preaching and practising in the English North. Indeed, it was only 8 years after Peterloo, that bloody day in Manchester when cavalry rode roughshod through a rally of sixty thousand workers, leaving six hundred casualties, and eleven corpses behind their hooves. On September 20 even Mr. William Mann must have feared things might get out of hand, because he was one of the signatories on a REWARD notice posted all over the parish.83
An image of the following reward
poster fills most of page 198
---
Page 199
OUTRAGE & REWARD
Whereas some evil disposed person or persons did, on the night of the 4th September inst. break into Lisdoard MILL, destroyed and carried away, a quantity of Carpenter's TOOLS, the property of the MILLER, and also posted up threatening NOTICE'S—and in persuance of the same Malicious design; a man of the name of Thos Bingham, of Feddon, was attacked in his House, and a Shot Fired at him through his door, on the night of Friday the 14th September inst. on account of him having carried OATS to be GROUND at the Mill of John Speer—and further on the same night, did break, and destroy, a Wheel-car and CHURN the property of Francis Neely of Carron. Now we the undersigned, holding in abhorrence such Malicious conduct, and in order to bring the perpetrators to speedy and condign punishment do hereby offer a REWARD of
Seventy Pounds
in proportion to the sums annexed to our names, to any person or persons who will prosecute to Conviction within six months from the date hereof, the perpetrators of the above mentioned Outrages, and also the sum of
Thirty Pounds
for such private information, as may lead to the Conviction of the Perpetrator of the above felonious Outrages.
Dated, Sept. 20, 1827
| | | | |
| --- | --- | --- | --- |
| Rev. Francis Gervis | 10 | William Stewart | 1--10 |
| H.G.Edwards Esq | 5 | Andw Little | 1 |
| Richd Armstrong Esq | 5 | William Watson | 1 |
| Wm Mann Esq | 3 | Wm Adams | 1 |
| Rev. Thomas Murray | 2--2 | Philip Keenan | 1 |
| Rev. John Mulgrew | 2 | Patrick McKenna | 1 |
| Jas. Montgomery Esq | 5 | Adam Armstrong | 1 |
| Edward Toole | 5 | Joseph Adams | 1 |
| James Speer | 2 | Francis McDowell | 1--1 |
| Thos. Montgomery | 5 | Edward Beatty | 1 |
| Rowland Betty | 2 | John Watson | 1 |
| Jas. Simpson | 3 | Francis Dilworth | 1--1 |
| Joseph Simpson | 2 | William McClelland | 1--1 |
| James Fiddes | 3 | James Heather | 1 |
| William Coulter | 5 | Henry Speer Junr. | 2 |
| John Wright | 1 | Oliver Vance | 5 |
| Acheson Moore | 1 | Wm. Dawson | 2 |
| John Beggs | 1--1 | James Wilson | 1 |
| George Crothers | 1 | H. Morrison | 3--10 |
| John Betty | 1 | Stewart Simpson | 0-10 |
| Edward Hull | 1--1 | John Cairns | 0--10 |
| John Leard | 1 | John Speer | 5 |
Townlands of southern Errigle Keerogue parish, adjacent to Carnteel parish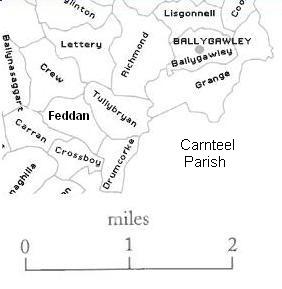 What did those Notices threaten at Lisdoard (sic) ? And what was the 'Malicious Design'? Conspicuous by their absence from the above list are "some of the most respectable inhabitants of the parish"—George Mayne, and Jim Liggett!
To any reasonable person Feddan was unavoidable. Geography provided no better pivot for an efficient parish. No other centre was so balanced by the population distributions, and it was patently accessible. Feddan was the perfect demographic fulcrum.
---
Page 200

Feddan was not too much of a break with Kerog's past. It was still within the ambit of Kerog's ancient centre, but on this elevation its portals would dominate a modern Ulster thoroughfare. Perched on Feddan Rise, spires could be a focus for all corners of the parish.

Villagers couldn't disprove this. So they fought it. Thirty months of wrangling smoke-screened the incontrovertible merits of Feddan. Many villagers must have known the truth privately, but, in committee, opposition solidified. Conflict and abuse, scandal and invective rumbled on for two and a half years—the villagers intransigent that the H.Q. of Kerog parish should be transferred to the village.

DISINTEGRATION

When eventually the Diocesan authorities agreed to have a village church, it was obvious that such a location would not be as central for the whole of Kerog as Feddan would have been, or even the old centre in the townland of Ballinasagart. So the Diocesan authorities had to agree immediately to re-construction of the old Church in Ballinasagart.

The next stage came when most Kerog people refused to support two Churches in their parish. The authorities were then driven to forming two separate parishes. Abandoning the superb Feddan project precipitated a train of costly and detrimental compromises.

Facts favoured Feddan. Shouting didn't! So, on a bleak November day in 1829, the blade fell on old Kerog. Ironically, it was the local Surgeon, William Cole who was almost at the top of Mann's Memorialists thirty months earlier!

SACRILEGE

Rural Dean Stopford was clearly relieved that the row was over. On the 26th September 1829 he wrote to Archbishop Beresford "The plan has pleased all parties. Ballygawley people are particularly happy. I am getting maps made of the townlands, and the number of Protestant parishioners in each, so as to be a guide as to the proportion to be cut off."

Chapter 6 ends on Page 223