Ulsterheart Chapter 8
Kerography
Pages 283 to 293
Chapter 8 begins on Page 272
GRANGE COTTAGE built by the
Armstrongs of Castle Grounds 1720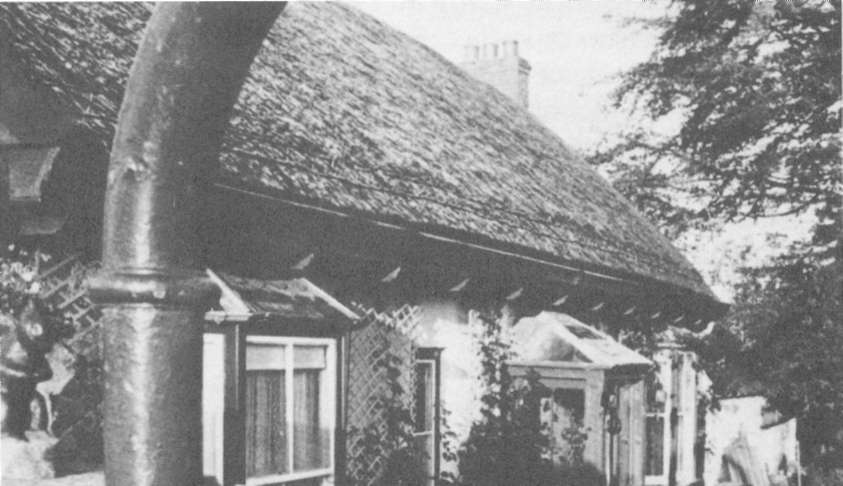 Page 283
By 1817, it was "a small manufacture. The Conductor of it could have work for more hands, but he seems content with the regular consumption of what he makes. From the Goodness of the material and the neatness of the workmanship the gloves are in general demand throughout the neighbourhood, and are often sent some distance."
About 1820, Richard Armstrong wore Ballygawley gloves when he went to London on Brewery business. A French businessman admired them, and soon "tons of gloves were despatched to France" where some may yet surface in costume museums.
By 1835, Ballygawley had "an extensive factory of gloves." The 1838 Parliamentary Gazette describes the glove factory as "of much repute, and of considerable extent." Lewis's assessment in 1837 "a small manufacture" is a patent anachronism. The terminology is taken verbatim from the Shaw Mason Survey of twenty years earlier, and provides an interesting instance of Lewis not being up to date.
---
Page 284
Dorrian the Postman stated in 1904 "the gloves were made from the best chamois leather. Remuneration was calculated according to the number of pairs turned out in the week. Lowry Crudden, one of the shrewdest men in the district, who occupied a house with his brother Owen near the Fair Green was constantly employed tanning skins for the Hughes Glove Factory. Later still, I have been an eyewitness to Ellen Coyle and her daughter hand-sewing chamois gloves long after the Hughes factory had dis­appeared. Lowry Crudden and Ellen Coyle went to live in Om-agh, and the trade fell away."125.
Candles
In 1970 Mrs Nat Henderson pointed from the rear of her house, at a tall building near the south west corner of the Linenhall saying her mother often told of a candle factory in it. Slater's 1856 Directory certifies that Thomas Montgomery was a Tallow Chandler and Soap Boiler, and in the Dispensary records at that time one of the patients gave as occupation—"Chandler". With a supply of fat, some farms must have made their own candles. Many towns had small candle factories. That Ballygawley village had a factory is an appropriate anticipation of the Loughran electrical enterprise of the nineteen twenties which sold light. Once again we can only regret the disappearance of business records and souvenir samples.
THE SPADE MILL
In 1858 there were fifteen forges in the Ulsterheart
| | |
| --- | --- |
| Margaret Burton | Culnaha |
| Terence Campbell | Brachagh |
| Robert Ewing | Greenhill |
| Samuel Ewing | B'gawley, 23 Main St. |
| James Gormley | Dunmoyle |
| Alexander McDowell | Mullaghbane |
| James McDowell | Ballygawley, 3 Beragh Rd. |
| Robert McDowell | Ballygawley, 38 Main St. |
| Francis McKenna | Balnasagart |
| Francis McNelis | Grange Foundry |
| James McNelis | Lismore |
| Patrick McNelis | Glencul Foundry |
| James Miller | Lismore |
| James Tierney | Loughans |
---
Page 285
With a stock of iron, a furnace, an anvil, and a hammer they shod the hooves of Kerog. As well as horse-shoes they could produce all the simpler iron fittings used on Kerog farms. Indeed, James McDowell was caught making war-pikes for the United Irishmen in 1798, and sentenced by Corry Moutray to 300 lashes of the whip. Later, McDowell made thrumps. But the one family which had the enterprise to develop something more practical than pikes or Jew's Harps was McNelis. Theirs were the only forges rated as "Foundry" in the 1858 Griffith Survey.
It is said that the McNelis family came from the Glenties, and after working at Daly's Spade Mill near Drumnakilly, started a Spade Mill on a wee island in the centre of the Kerog River, just west of the Sesskilgreen Bridge, and just north of the east end of the Waterside. They also had a foundry at Newtownsaville, but it was at Glencul that the family earned a reputation for the McNelis Spade, a robust implement in great demand in Valleytop farms, the turf banks beyond, and even far afield.
As early as 1828, the Kerog Churchwarden's Ledger has an entry stating that the Warden for that year, Edward Hull "Paid Thos. McNelus (sic) for a new spade, four shillings." In the next 20 years, they seem to have diversified their production line. The Demesne Account Book records that on the 6th August 1847, Favor Royal bought a "Draining Spade and Scoop from McNelis, four shillings and eight pence."
In 1904, an Ulster Herald columnist stated "The Forge and Foundry which Patrick McNelis ran on his 12 acre farm in Glencul established a reputation for good quality spades." So, by 1904, another local industry had vanished, after a production span of about eighty years.
---
Page 286

LISDOART ROPES

Hay-rope winders were a commonplace sight in Kerog meadows before the Hitler War. Made on the spot, the hay-ropes were discarded, and unravelled into the stack when the hay was stored in the haggard shed. Re-usable ropes required a stronger fibre and a stronger twist.

Hemp was hackled by combing it over a board studded with sharp teeth. Then the Spinner tied an armful of this hackled hemp loosely around his waist. He then engaged a few fibres on a revolving hook, and walked backwards down a rope-walk, holding the loose end of the growing rope in one hand, and feeding fibre from his waist with the other.

The principal Ulsterheart Ropewalk was on the riverbank opposite Lisdoart Post Office. A simple water-wheel was moored in the Puttog River, and it activated the hook spindle ashore. Lis­doart Rope-walk was about 100 yards long. Even less trace of this industry has survived than of the others. The rope-walk itself would have been covered in.

LISGONNEL BRICKYARD

Vaguer still is the tradition of a brickworks just west of Moore's Cottage in Lisgonnel, in a field annually flooded in the nineteen seventies. There may have been brick-clay deposits convenient which are no longer apparent. Certainly the mould would be smaller than that used for modern bricks. Bricks, probably from the Hamilton Castle tumbled in 1641, were used to repair the perimeter wall opposite the Police Station, where they can still be seen. Whilst almost the same in length and breadth as modern bricks, they are only five centimetres thick—like hefty tiles.

THE RICHMOUNT PRESS

The Richmount Press produced neat and decorative printing for about forty years. Its productions are extant from 1870, and there
---
Page 287

are indications that it existed before that date. Its owner and Operator, Maxwell Moutray LL.D. died in 1908. So, we might date his business years as approximately 1865-1905.

Dr. Moutray had two wooden presses, and one iron press. He stocked a great variety of alphabetic styles, typographical signs, literary symbols, and even heraldic ensignia. His most interesting product was a Parish Magazine, entitled "Quarterly News". He published four pages "as early as possible in March, June, Sept., and Dec." During the 1890s he reduced its price by 25 % from four pence per year to three pence per year. There are 34 issues extant, out of a probable 60.

Annual and interim Financial Reports were also printed at the Richmount Press. Among the other samples that have survived are blank certificates, special notices and souvenir cards, library tickets and book labels. He took orders for quantities of tickets. He also printed a decorative set of presentation poems, including two of verses by his sister-in-law which were accepted at Buck­ingham Palace.

The Richmount Press also manufactured stationery. A typical sample is the fat Preacher's Book in Ballygawley. Dr. Moutray did the paper cutting, but the actual sewing and binding was done by his life-long friend Dr. Wallace Taylor from the next parish. His three printing machines were among the 14 pieces of printing equipment auctioned by Foster McKay at Richmount on Friday, 23rd October, 1908. If Kerog's smallest industry lasted only 40 years, 40 centuries is the present age of its largest.

TRADE

Village trade is briefly documented in the annual Directories published by Pigott and Slater from about 1840 on. Indeed, there is an earlier reference to village business, which is far from compli­mentary. The 1830 Ordnance Survey Memoir states "This town is so famous for idleness and immorality, that Beggars remain in the town for six or seven days, well knowing that they are sure of a sufficiency of whiskey." Things had not improved in the 12 years since Kelly Groves was even more specific about that immoral-
---
Page 288

ity—"too many whiskey shops beside lesser houses of entertain­ment."

The 1830 Memoir then summarises the village trade as

6 Grocers
12 Whiskey Shops
3 Bakers
1 Butcher
1 Inn
2 Milliners
1 Clothier
2 Reed Makers
1 Smith

Slater names the 12 Whiskey Merchants of 1846:—

John BEATTY
Robert BEATTY
Thomas DROOGAN
Michael HEGARTY
Thomas HEUNA
Richard LITTLE
John McCUSKER
John MITCHELL
Peter MONTAGUE
Alexander MORTON
John O'NEILL
Stewart SIMPSON.

And Grocers were

Alexander ANDERSON
William BUSBY
Terence FLTZPATRICK
John HAMILTON
Alexander LITTLE
George MAYNE
Peter MONTAGUE
Alexander MULLEN
Richard NEILLY
Robert TURNER
---
Page 289

There were three BAKERS—Geo Boyd, Wm Busby, Geo Mayne

Linen and woollen Merchant John Hamilton
StrawBonnet Maker—Mary Morrow
Tailor—Bernard McGurk
Timber & Coal Merchant—Peter McKenna
Saddler—John Mullen
Hotelier—Ben Greer
Excise Supervisor—Tom Kay
Policeman—Thomas S. Barnes
Dispensing Surgeon—John Alexander M.D.

Health Service

The first extensive record of Ulsterheart occupations is the 1824-'29 Baptism Register. But the 253 fathers named were all members of one denomination. All denominations are included on the next extensive list to survive, a Medical File of a quarter of a century later, but it too is not representative of the whole community, but only those dependent on medical charity.

The Tyrone Grand Jury maintained a Medical Doctor in Kerog from about 1815. A William Cole who had three of his children baptised in Kerog between 1823 and 1826 gave his occupation as "Surgeon". But a public meeting in the Stewart Arms Inn on 21st May 1834 inaugurated a Medical Dispensary. Chairman was Sir Hugh Stewart, Secretary William Coulter, and Treasurer Deane Mann of Martray. Largest contributions were five guineas from Stewart, and two each from the Rev. Felix Slane and the Dublin Pharmaceutists Boileau and George. The other Landlords—Moutray, Verner, Mervyn Stewart and Crossle gave a pound each, as did the local clergy and 26 others whose names are on record. The Rev. Thomas Murray was Treasurer from 1835, and in the forties Robert Falls was Secretary and Treasurer.

The Doctors employed were

1834 S.Wilson
1839 John Alexander
1845 Henry Stacey Skipton
1847 Samuel Phillips
---
Page 290
GARVAGHY "BROCHAN" HOUSE
For Famine Porridge (image flawed)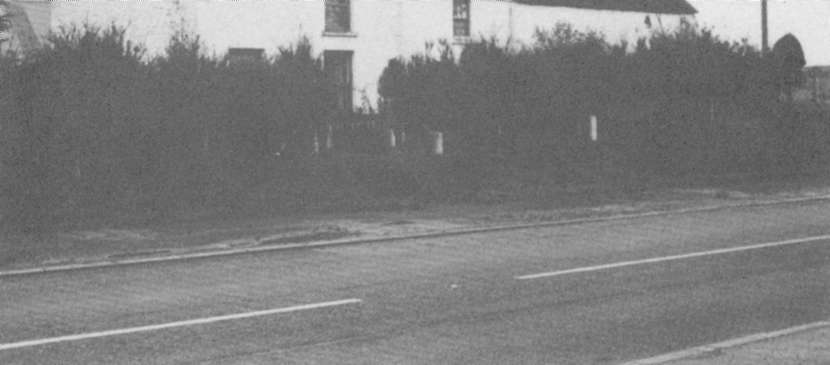 In May 1836 the Committee noted that two years' grants were due to die Grand Jury, amounting to seventy pounds "owing to the defalcation of the late County Treasurer, James Galbraith." Dr. Wilson was paid forty pounds per year.

The Great Hunger

There is a conspicuous absence of any reference to the great potato famine of 1847 which halved the population of Ireland, and sent a million refugees to America. But, in November 1847 the Treasurers were instructed to give the £ 14 balance "to Dr. Phillips for his attention to the poor during the prevalence of Feaver (sic)." This was cholera. On 30th December 1839 the Committee decided to establish a Hospital for urgent cases. The modest structure which eventually rose just fornint the town fountain in north-
---
Page 291
west Richmond was little better than an isolation ward, and indeed a morgue, if the ominous mounds around it are what they seem. At the end of the century it was the residence of a man called Bailie and his wife, nicknamed 'Orange Bailie'. It was still roofed in 1977, a reminder of the centre Ballygawley might have been, set strategically between Craigavon and Altnagelvin, aborted by rustic inertia.
As early as 1844 we find Dr. Alexander being voted a locomotory allowance in addition to his stipend—"£ 8 pounds, 15 shillings to Dr. Alexander for keeping a horse to enable him to attend patients." In 1851, 1,466 Patients were attended to, 1092 cured, 211 relieved, and 42 died. 360 had been attended in their homes. Altogether he made 820 visits to homes and covered 2,700 miles.
He treated people for bronchitis, scrofula (tuberculosis) and "fevris", which Dr. Gillespie suggests could be anything from undiagnosed scarlatina to typhus. In 1851 there were
2 cases of anthrax
5 cases of smallpox
83 cases of feaver
9 cases of scarlatina
30 cases of measles
12 cases of whooping-cough
40 cases of wounds, which Dr. Gillespie surmises were caused by fight­ing at the fairs, for which diversion Ballygawley was notorious.
Cauldron Bubble
The medicines used were bought from the noted firm of Dublin pharmaceutists, still in business, Messrs Boileau and George. The compounding was done by Dr. Hamilton of Omagh or by Dr. Moreton, but for many years the local apothecary was "Dr. Mur­ray" a brother of the Perpetual Curate, and what a survival kit was their list of ingredients—Blue-stone, Rhubarb, Treacle, Lard, Turpentine, Vinegar, Hartshorn, Caraway seed, Raisins, and Whiskey by the gallon.
What a rich aroma swirled around Dr. Phillips and his furnish­ings—Buckets, Jugs, Corks, Sheepskins, Sponges, Spatulas, and
---
Page 292
Crocks. "Old Crocks" were rare, and the average life-span 48 years. However it would have been lower still but for the excellent efforts of this primitive dispensary.
For us today its chief legacy is a file which Dr. Phillips kept on the hundreds of patients with their age and occupation. Dr. Gillespie has analysed and classified these in an illuminating article in Ulster Folklife. He found 54 crafts. Kerographicalfy, they are best studied alongside the earlier Baptism Register tally—the figure after the baptism entries indicating the number who stated that occupation.
KEROG OCCUPATIONS
| | |
| --- | --- |
| Gentleman (5) | |
| Army or "Officer" (4) | Soldier |
| Surgeon | |
| Schoolmaster (1) | Schoolmaster |
| Constable (2) | Policeman |
| Bailiff | |
| Process-server | |
| Gauger (3) | |
| Surveyor | |
| | |
| Farmers (93) | Farmer |
| Weavers (71) | Weaver |
| Gardeners | Gardener |
| Millers (3) | Miller |
| Limeburners | |
| Labourers (39) | Labourer |
| Servants (3) | Servant |
| | |
| Mason (3) | Mason |
| Stone-cutter (2) | Stonemason |
| Glazier | |
| Painter | |
| Sawyer | |
| Carpenter (6) | Carpenter |
| Cabinet-maker | |
| | |
| Smith (6) | Blacksmith |
| Nailer (3) | Nailer |
| Tin-ker | Whitesmith |
| Cranemaster | |
| | |
| Cooper | Cooper |
| Wheelwright (2) | |
| Shoemaker (5) | |
| Reed-maker | Reed-maker |
| | |
| Grocer | |
| Publican | |
---
Page 293
So, 14 categories did not show up at the Dispensary, but the Dispensary evidences a much larger number of interesting categories who did not present babies at the font during the years 1824-29, if indeed ever. Glover, Saddler, Chandler, Butcher, Baker, Broom-maker, Slater, Drayman, Bell-man, 'Pentioner,' Lodging-housekeeper, Ostler, Sexton, Cottier, Butler, Carman, Carrier, Dealer, 'Pedler,' Rag-gatherer, Ragman, Mendicant, Pauper.
The Dispensary also evidences more than a dozen female occupations, which would not show up on the Baptism Register anyhow, since its column is headed "Quality, Trade, or Profession of Father", Housekeeper, Milkwoman, Laundress, Washerwoman, Charwoman, Bonnet-maker, Dressmaker, Needlewoman, Nitter, (sic) Sewer, Quilter, Seamstress, Sprigger, Flowerer, as well as a Tailor, and a Sewed-muslin Agent.
Two hundred out of the 250 noted in the first fist had just 3 of the 33 occupations—Farmers, Weavers, and Labourers. The Favor Royal Demesne Account Book for the years 1844-49 is more explicit about some of the Labourers employed there. There were Smiths, Saddlers, and Grooms, Woodmen, Sawyers, Carpenters and 'Nailors,' Barn-men, Stable-boys, and even Cowboys on their payroll.
Chapter 8 ends on Page 315