Ulsterheart Chapter 8
Kerography
Pages 294 to 303

Chapter 8 begins on Page 272

Page 294

TRANSPORT

Industrial potential can be atrophied by commercial constipation. Kerog could have had a railway in 1847. It got one forty years late. Rustic fear of innovation deprived Kerog of modern transport at the very time when its promising industries could have capitalized on it. By 1887 all five growth industries were gone. Indeed, in the very year that the first puff-puff rumbled down Tullyvar, down tumbled the Brewery chimney.

Sir John MacNeill's plan for a railway from Omagh to Monaghan came in what Dr. Edward M. Patterson calls "that Railway mania year, 1845",126 because no less than one hundred and twenty one railway schemes were proposed for Ireland. The MacNeill railway was to go from Gortmore to Clogher, and skirt south Kerog to Aughnacloy. A pinch of enterprise could bring a spur to the Brewery village. See Map W on page 405.

Kerog was on the railway map of the world for just 54 years and eight months, from Monday 2nd May 1887 until New Year's Day 1942. The Clogher Valley Railway had 41 miles of track connecting the G.N.R. station at Tynan to the G.N.R. station at Maguiresbridge. Three of these were Kerog miles.

Descending Tullyvar it halted at Grange Corner, the principal station for Kerog parish and then passed through Tullybrian, Lis-doart, Drumcork, Crosbwee, Annahilla, and Roughan. As well as the station in Grange, it had a siding-hut in Tullyvar, shelter huts and platforms in Lisdoart and Annahilla, and a Loop, Cattle Pen, and Siding in Roughan.

The government had been urging diversification ever since the monocrop disaster of 1847 precipitated "The Great Hunger". In 1883 the Government authorized County Grand Juries (predecessors of the County Councils) to guarantee, from rate revenue, the dividend on loans for railways. With this security Ellison Macartney and Thomas Porter of Clogher founded the Clogher Valley Tramway with a Capital of £ 132,000.127

Even then, Speer Gervan objected to their plan to route it through Dungannon. He had long enjoyed a monopoly of transport with his horse-drawn cabs, wagons, brakes, and carts on the Ballygawley-Dungannon road. The culprit was the man the Post-
---
Page 295
man journalist Dorrian was referring to in 1904, when he wrote "one man in Grange is worth the whole of our island population."128
Gervan forced them to adjust their plans. The Ballygawley Bend, on the line from Aughnacloy to Clogher, could easily have been in the village. It suited Gervan to have it at Grange Corner, so that he could provide the transport from Grange to his "Stewart Arms Hotel". So, he joined the Board as one of the eight Baronial Directors.
The line opened with ceremony and feasting at its H.Q. in Aughnacloy. Early income was far below the optimism of the prospectus which had been published in October 1883. Many knew why! A route via Dungannon would have meant one major town on the line. So, four years after the C.VR. opened there was another attempt to rail the Ballygawley-Dungannon route. Lord Ranfurly of Northland Lodge, Dungannon Chaired a huge meeting of ratepayers in Dungannon Courthouse at 2 p.m on Monday, 4th May, 1891, to promote "an extension of the Clogher Valley Tramway, from Ballygawley to Dungannon."129
Although the Conference chiefly concerned Dungannon Rate­payers, "the side galleries were choked full of a hostile pack of men, mostiy strangers," bent on railing. Lord Ranfurly was cheered when he said "I am dead in favour of the proposed railway between Dungannon and Ballygawley—to bring more traffic into our own town. The markets would improve, and great advantage to the shopkeepers would follow."
Eerie Flit
Those present knew it was the omission of Dungannon that left the new railway uneconomic, so they cheered him when he added "I will say, however, that we should act independendy of any company. We do not want other people's debts, but it would be of great advantage to Clogher Valley residents to have direct com­munication with the good markets of Dungannon."
At this, the gallery mob started to "howl him down with gusto". The Dungannon people tried to support their Chairman "as far as their ability as vocalists would go, and in some cases by
---
Page 296
forcible means". The bellowing of "No Tramway, No Tramway" was soon a "rising storm". Calling them "pig-headed" Lord Ranfurly adjourned the meeting. They left the "rowdy mob" in possession of the Courthouse, and withdrew to the Magistrate's Room.
How could one man inveigle others into riot? The prescription is intangible, just because it is so simple, time-worn, and bland. Innuendoes about engine sparks igniting haystacks, and rail noise frightening horses, when fed to the credulous, spread hysteria.
Like hundreds of others, Tom Cumberland fell for it. Tom farmed eleven acres in Keady townland, at the place still called Cumberland's Brae a century later. Tom inherited a better farm near Fivemiletown. He decided to flit after the 1887 harvest. When all was rounded up, harnessed, packed and clothed for the 12 mile journey, Tom called a halt. He kept a weary wife and yawning children delay their departure until the stroke of midnight, when trams were finished their schedules, and all shunting done, "for fear the sparks 'ud fricken the harses."!
Railers De-rail
When the disrupted Conference had re-assembled in the Magistrate's Room, Mr. Frizelle, who already had interests in the Ballygawley district, put his finger very near the nerve of the rumpus. He said it should be possible "to keep the railway out of the way of cart traffic". Mr A. Patterson proposed that the extension should be implemented by a Committee of seven, with power to co-opt. This was seconded by Solicitor S. Howard. J. Simmonds, H.B. Kelly, T.W Reynolds, P. Frizelle, F. Reid, John Langland, John Aiken, and A. Patterson were appointed, a worthy eight, but no match for the shouters!
The Dungannon-Ballygawley Railway Committee actually got the lock-spitting for the track started, but in the end the railers won. Heavy voices aborted heavy traffic. And so, the C.V.R. never justified its early optimism.
On 16th July 1894 the Clogher Valley Tramway became the Clogher Valley Railway, but the change of status did nothing to boost its revenue. Its best year was 1904, and even then the profit
---
Page 297

C.V.R. STATION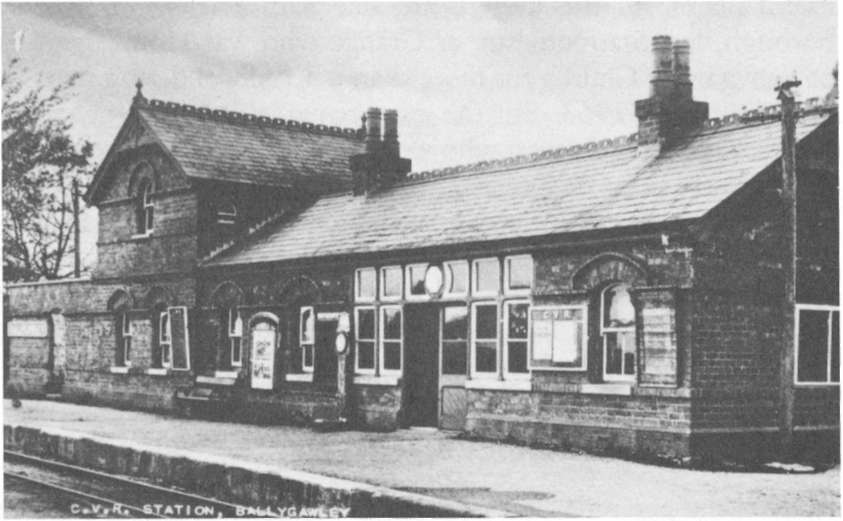 was only £ 791, so the County Council had to pay £ 5,375 to the shareholders.
In its first 40 years only 25 thousand tons of freight was carried every year, and the 120 thousand passengers prior to 1914 dropped to 60 thousand after 1918. Indeed, in 1917 the Government stepped in, and the C.VR. was taken over by the Board of Trade who ran it for its last 25 years at a loss of £ 4,000 per annum.
The C.VR.'s best day was the annual Boyne Celebration, when extra engines were coupled to drag the lengthy coach-cades to the Orange Field. But an annual Orange injection could not compen­sate for 364 lean days.
Kerogites had an affection for the seven great puffers labouring across their southern marches, the Caledon, Errigal, Blackwater, Fury, Colebrook, Erne, and Blessingbourne. Many Kerogites were employed keeping these monsters prowling up and down the valley. But, not all the smoke and sweat in Hades could hold back the auctioneer's mallet on 14th April, 1942, when all equipment was sold, and the Valley had spasms of mid-Victorian silence, before the onrush of the motor-cades.
As well as employing some Kerogites, the C.VR. brought some
---
Page 298

useful people to the Ulsterheart, like Sam Friel from Brookeborough, last Stationmaster at Grange who was Hon. Treasurer of Ballygawley Church for more than a decade, and sang tenor in the Choir until 1963. But the most remarkable record of service was that of Paddy Stewart who worked for the C.V.R. throughout the 54 years of its existence. Patrick Stewart of Fardross as a boy made tea for the construction navvies in 1886, and ended his railway career as a Controller at Grange Station. He was a cousin of the Stewarts of Daisy Hill, Clogher, and a valuable member of Ballygawley Parish Church Choir, though he always pleaded he could sing well only when he had a cold!

Innovation Phobia

And so, the perennial fear of doing anything "that the others are not doing" aborted the industrial potential of the Ulsterheart. In 1790 the Dublin-Derry Mail Coach had replaced the Post Riders. In 1803, it was routed through Glaslough, Favor Royal (south) and Augher. In 1813 it first ran through Ballygawley village on 3 days per week. It wasn't until 1824 that there was a daily service through Ballygawley leaving Dublin at 3-35 p.m., and Derry at 10 a.m. The Ballygreenan bypass was built in 1837, and the Waterside road in 1840. The north Favor Royal road was completed in the forties, and so on 17th June 1850 the Armagh-Enniskillen stagecoach ran past Favor Royal gate "for the first time, at a quarter before one o'clock for Enniskillen." So Ulsterheart freight jogged along with sweat forty years after steam was available.

Innovation phobia induced perennial inertia. Local neuroses about railways constipated all the visions and aspirations of the Stewarts to bring the industrial revolution to Ballygawley. Twelve years before the C.V.R. began, one of them cut his losses, and started a "New Ulster" on the other side of the planet.

Greenhill Faraway

The Stewarts lived in the parish for about eighty years—three generations, father, son, and grandson lived at Greenhill, although none of them lived out his whole life there. When the Attorney
---
Page 299

General moved in he was 54 and his son 19. His grandson left in his fifties.

Ballygawley Church bears no trace of their presence. A couple of weddings were performed there, and a few Greenhill baptisms. A protracted feud between a tenant Thomas Hughes whose cottage remained until 1973 opposite Gormley's Engineering Works, and the Ballygawley Rector drove the Attorney General to worship in Kerog and Pomeroy, the more especially since his own eccentric father-in-law sided with the peasant agitator.130 So Ballygawley Church carries no inscription, decoration, or furniture from that prestigious family who were for long nominally Churchwardens.

The Attorney General's younger son Mervyn married Frances Vesey of the Huguenot family De Vesci, and about 1821 built Martray Manor. His son George Vesey Stewart graduated from T.C.D. in 1856 with an Honours degree in classics, and prizes for French, German, Italian, and Spanish.131 That same year he built Lisbeg House above the Ballygawley Roundabout and married his cousin Margaret Miller of Moneymore. In 1859 he built Lisdoart Mill, stamping the year on the bricks. When his promotions were hamstrung by local vested interests he sold it a dozen years later to Duncan. Incidentally, Duncan never insured it, and lost £200 worth of flax and equipment in a conflagration on 18th January 1878 though the Royal Irish, hurrying out from Ballygawley to render assistance, saved the building which was to house McMaster's Sawmill in 1906, and then Coote's Woollen Mill before being bought by the great Belfast Linen Magnate Ewart.

When Vesey Stewart sold Lisdoart he put 13 thousand miles between himself and the Valleytop, and landed, after 3 months' travel in New Zealand.

In 1840, William Hobson of Waterford had sailed under Cape Brett, made peace with the Maoris, and hoisted a Union Jack making Russell the first Capital of N. Zealand. But, after 30 years there were less white people in the whole of N. Zealand than there were in Co. Tyrone. In 1873 Vesey Stewart returned to Ulster with an option on ten thousand acres, near the Bay of Plenty, and at the remarkable price of two pounds per acre.

He offered N. Zealand land for four pounds an acre to Green-
---
Page 300

C.V.R. STATION
Birthplace of N. Zealand Pioneer Vesey Stewart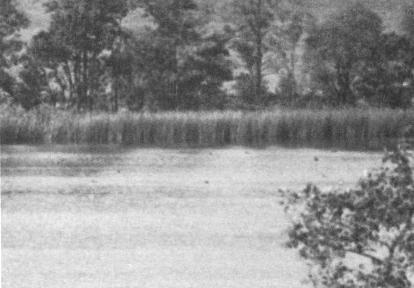 hill, Martray and Lisbeg tenants. True to form they hesitated at the idea of being pioneers, and told each other they would be eaten by the Maoris. So, Vesey Stewart broadcast the offer in public lectures, Newsletter adverts, and Orange circulars. In June 1875, 238 people boarded the S.S. Carisbrooke Castle in Belfast and got 250-acre farms in Kati Kati around the Bay of Plenty.
Brett's Almanac, an Auckland publication, described them a year later—"This prosperous Kati Kati settlement of Belfast farm­ers, who came to the colony under the leadership of Mr. Vesey Stewart, is situated north of Tauranga. The settlers who number 250 and occupy 30 houses set to work vigorously putting in crops of wheat, potatoes, oats, maize and onions. They have brought one thousand acres under cultivation."132 On 12th Dec. 1876 the Daily Southern Cross marvelled at "the remarkable strides made by the settlement, thanks to the industry and energy of those special settlers."
Despite the scare about cannibal Maoris at least ten Kerog fam-
---
Page 301
LISBEG
built by Vesey Stewart in 1855 for his Bride Margaret Miller

ilies occupied those houses, including Turner, Rea, Hamilton, Mulgrew, Stewart, Wray, Wilson, and McAuley. The Revs. Crossle of Anahoe and Mulgan of Glaslough also got Kati Kati farms. If it was at this time that the McKeown, Rainey, and Gray families of Garvahy emigrated, it must have been on the staff of the Stewarts or other landowners, as none of these names appear on the grants listed.
John Wilson was the largest tenant the Stewarts had in Martray. His uncle Andrew, who also went, was a Surveyor. Just prior to the emigration Kerog had a couple of families spelling their name Wray. Stuart spelt his name the same way as the Killymorgan weavers whose fortunes crashed in 1855. Presbyterian Mulgrews lived in Tulnavern before 1875. John Hamilton, probably a son of David Hamilton who was a Stewart tenant in Cooligery in 1856 was probably a descendant of the John Hamilton of Millex whose name is enshrined in Kerog porch. Stewart Rea was probably the farmer of that name who in 1856 farmed 12 acres in Ballinaputtog. But, Sandy Turner was the most enthusiastic Ker-
---
Page 302
ogite in Kati Kati. The Turners had 41 acres in Findrum, 4 in Knockony, and 8 in Lisgonnel.
Now is the Hour
On 28th Sept. 1877 Ballygawley was brilliantly illuminated from end to end. A great concourse of people welcomed Vesey Stewart home to organize a second emigration. He was "cheered and chaired on stalwart shoulders from Martray to the Stewart Arms Hotel where Proprietor Speer Gervan led him and his brother Capt. Hugh, with their father Capt. Mervyn on to a balcony in front of the Hotel."133 The Rector of Kerog, nephew to Vesey's sister Barbara did not preside, and we shall see why in the next chapter. Instead the new Presbyterian Minister the Rev. D.G. Smyth made a speech of congratulation. Vesey Stewart, replying, gave facts and figures about Kati Kati prosperity. Then he led a fife and drum procession up and down the town before the feasting started.
On 1st Feb. 1878, the Tyrone Constitution carried an article by him on "The N. Zealand Settlement", quoting a letter from Sandy Turner "Come out to old friends. Enjoy the finest climate in the world. Till ground for a whole month without finding a stone. Labour five acres as easily as one in Ireland."
Then, Carson of Omagh and Hethrington of Uxbridge pub­lished a pamphlet by Vesey Stewart on "The Birth, Rise, and Pro­gress of the Kati Kati Settlement." Even then, someone dilated some difficulties mentioned in exiles' letters, as if all pioneers everywhere didn't have to face the unexpected. He arranged for a collective deposition from the settlement itself, and so the Belfast Newsletter carried a statement denying the alleged difficulties, signed by 24 of the settlers, and testifying in glowing terms to the "extreme productivity of the easily-worked soil". Vesey Stewart told of Sandy Turner's 9-inch potatoes, and oats 7 feet high, with double crops on the same ground, one for ripening the other for green feeding, 50-lb melons in the open, and vegetables all the year around. He emphasized that the settlement needed now mechanics, artisans, millworkers and hacklers. "Young gents with soft hands, without money, prospects, or brains would be better at home."
---
Page 303
Martray Down Under
And so, the S.S. Lady Jocelyn sailed from Carrickfergus on 20th May 1878 with 285 Irish people among its 378 passengers, including Vesey Stewart's aged parents Mervyn and Frances from Martray Also aboard was Vesey's brother Hugh a Captain in the Royal Artillery. Adela, the Captain's wife kept a Diary and in 1908 published "My Simple Life in N. Zealand" which has become a valued classic of pioneer literature, although the complete enterprise is more fully documented in Arthur J. Gray's "An Ulster Plantation".
This second group did not get as good land as the first, but they got it for £ 2 per acre. Still, in 3 years only 198 of this second group remained in Kati Kati. The others had moved nearer Auckland.
Co-incidentally, Northern N. Zealand had been called "New Ulster" in a N. Zealand Government Act thirty years before Vesey Stewart arrived. The name lapsed, but this great Kerog pioneer supplied the reality. Successive generations spread from Kati Kati into the cities of Tauranga, Rotorua, and Hamilton, where in 1975 they celebrated the centenary of Vesey Stewart's unique enterprise. By then, the timber-built N. Zealand "Martray" built for his aged parents was crumbling, though his boyhood initials carved on a kitchen door remain his solitary souvenir in the original Martray in Tyrone. His own 14 room mansion 'down under' he called "Mount Stewart", but the best preserved pioneer house is "Athenree" built by his brother Capt. Hugh, and named for the Stewart home, near Carrickmore, before they moved into Kerog in 1811.
With the proceeds of his pamphlet Vesey Stewart bought 2 acres from Sandy Turner, and built St. Peter's Church, making the Rev. John Crossley first Rector, while nearby, in the Public Hall a Presbyterian congregation was founded under the Rev. John Mark.
Maori Cuppa
In the next five years Vesey Stewart sponsored four more waves of emigration, living in London for long periods to organize them.
Chapter 8 ends on Page 315