Ulsterheart Chapter 8
Kerography
Pages 304 to 315
Chapter 8 begins on Page 272
Page 304
But, railways in the colony were his abiding obsession. After all it was reactionary rustic objection to modern transport in the Ulsterheart that had been the root cause of his leaving Kerog. So, in 1880 he set up the Tauranga-Rotorua Railway Committee. Totally different difficulties had to be faced here, and for the 45 years of his life in N. Zealand railways remained a perennial obsession. Indeed, the last letter he ever wrote was in January 1920, and it was about the line through Kati Kati. Eventually he realised a railway down the east coast of N. Zealand.
He received his most significant accolade five years after his Kati Kati enterprises. In 1882 he was elected first-ever Mayor of Tauranga. Many likely Kerogites failed to share his bonanza on the Bay of Plenty, scared by the Maori cannibals that they had invented. The Maoris came all right. In the summer of 1884 one hundred armed Maori warriors swarmed down from the hills towards "Athenree" the residence of Capt. Hugh Stewart. Adela describes their powerful painted Chieftain Te Koote. Instead of eating the Stewarts, Adela gave them tea on the lawn!134
EDUCATION
When the Church was reformed, about 1550, the Crown saw that education was the best reformer. Indeed, when six-wived Henry Tudor dissolved thousands of monasteries, he specified that the resources accruing should be diverted into philanthropic and educational enterprises. His daughter Elizabeth, in 1560 signed "An Act for the Erection of Free Schooles". Most of her free education in Ireland was to be done through the medium of gaelic. Indeed, she had a gaelic grammar book compiled, so that she might train herself to speak to the people of the other island.135
King James earmarked the income from 13 thousand Ulster acres specifically for education. His worthy aspirations were aborted by the people appointed to administer these funds, so, in July 1629 Charles I sent an Order to the Lords Justice insisting on education for all his subjects alike. Yet, when Wentworth arrived in Ireland in 1633 he found the educational lands farmed out to unworthy persons, and the schools ill-provided.136 The sue-
---
Page 305
MARTRAY MANOR IN 1916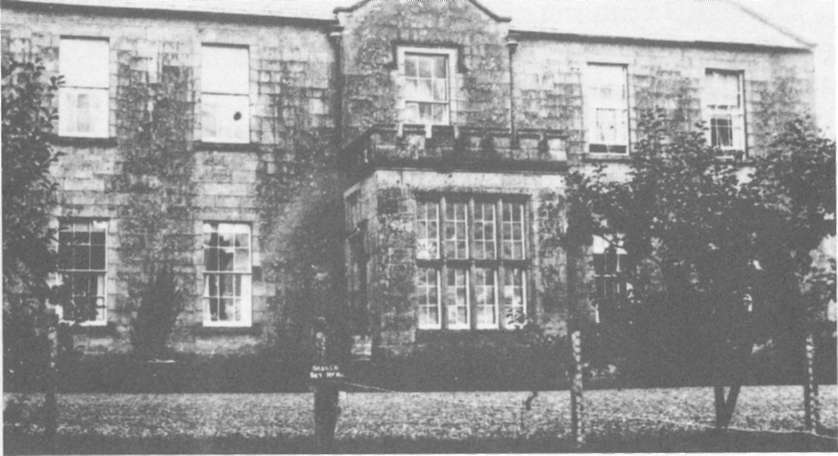 cess of Wentworth's educational policy is seen vividly at the higher levels. Many of the Irish gentry families, convicted by James II in 1687 for being protestant, were families which sixty years earlier had resisted reform.
But, as late as 1700 most Irish people still had no schools. They started their own. They were in the open air, usually hollowed out of the earth in the lee of a thick hedge. By 1733 there were no less than 549 of these small unofficial and voluntary Hedge Schools.137 The Government was thus shamed into starting Charter Schools. The Society incorporated for the purpose was a dismal failure. Fifty years later the philanthropist John Howard found Irish children "ill-fed, ill-clad, ill-taught".
Yet, the Incorporated Society lingered on for a century, until 4 voluntary societies had taken up the torch. In 1792 the Rector of Arboe, Co. Tyrone Canon John O'Connor B.D., F.T.C.D. helped found in Dublin an "Association for Promoting the knowledge and Practice of the Christian Religion". This A.P.C.K. was Epis­copal. The London Hibernian Society was non-conformist. The Kildare Place society which flourished from 1811-32 was non-denominational, and had an R.C. Vice-President Lord Fingall. By 1825 it taught 100 thousand pupils in 1,490 schools, and got an
---
Page 306
annual grant of £ 20 thousand. The fourth of these educational societies was the completely R.C. Christian Brothers.
Through 3 centuries of chaotic corruption and cultural carnage the Hedge Schools shone. Reading, Writing, Arithmetic, Latin and Greek were their main subjects. Dr. Hincks told the educational enquiry in 1835 "many Hedge Schools gave a great deal of scientific instruction". Indeed, Hedge Schoolmasters sometimes anticipated educational techniques by a century and a half. In 1817 the Archdeacon of Ferns jeered at some Hedge Schoolteachers for doing what seemed to him a laughable paradox when they "taught children to read before they can spell".
William Carleton (1794-1869) a native of Prilisk, Clogher and for his Irish novels probably the most memorable product of the Hedge system in its whole century and a half, anticipates many mid-20th century principles
(a) Silence is not conducive to intellectual improvement.
(b) Excitement aids study.
(c) Group-study is productive.
(d) Individuality should be encouraged.
(e) Study the child-mind. It seldom reflects.
(f) Soften straight-laced systems with the 'milk of human kindness.'

These Hedge Schools got no encouragement from the gentry who dominated the land. Carleton's "Poor Scholar" of Ballysogarth had to go to Kerry for education. Despite this, Hedge Schools spawned all over Tyrone to such an extent that the Rector of Newtownstewart, Dr. Mclvor F.T.C.D. said "Tyrone has been called the northern Kerry. Kerry may well be the southern Ty­rone."138
The great 18th century mansions may have their libraries lined with leather-backs. Hedge schools couldn't even get paper-backs. Shaw Mason, in 1817, reported "In Errigle Keroge, Co. Tyrone no particular book is employed as a Reader. The mixture of books that the children use is a great impediment to improvement at these schools. The spelling books are of various kinds and bad sorts; and the books for those advanced to reading, are generally those sold by pedlars of odd volumes of novels."
---
Page 307
When eventually the Establishment was shamed into starting schools "the study of history was completely discouraged. The absence of history was part of a well-defined policy." Small wonder that "many Protestant children were sent to the Hedge Schools in preference to the Church Schools." In 1808, Edgeworth wrote to Lord Selkirk "Higher arithmetic is better understood and practised by boys without shoes and stockings than by young gentlemen in coaches."
The 36th Kerog Rector was typically obscurantist. J.J. Moutray opposed the opening of schools. It was in the face of much opposition from him that Rarogan School was built in 1836. He succeeded in delaying the opening of Ardnalochy School, and when the Rev. John Mulgrew applied on 13th April, 1832 for a £ 20 grant to erect a school at Garvaghy, the Rev. J.J. Moutray black-beaned the application. On 10th Sept. 1832 Mulgrew wrote "Some individuals have exhibited marks of opposition to the national system in this neighbourhood, partly, I must say from ignorance and partly from prejudice, but in a very short time we fondly hope to see it cordially embraced by every denomination of Christian."139
Reluctant Light
In mid 20th century clergy demanded committee representation and right of entry to schools, claiming they had pioneered education. Kerog Registers, extant from 1814, do not substantiate the Church's 1950 propaganda line. The very pittances, scattered casually between orders for coffin-wood, thatch and shovels are elo­quent of the dominant attitude.
The Vestry was either looking for a Teacher, expecting a Teacher, or lost one soon after the Easter Vestry 1814. They budgeted for ten pounds, but in 1815 Wardens Armstrong and Speer re-allocated it. "Laid on for Schoolmaster which was not given and represented for the use of Church."
On 18th May 1816 "the Schoolmaster entred (sic) at the Church." It was a Saturday. Does "entred" signify some sort of introduction or enrolment? He was W Burton, and was paid by the Churchwardens £ 5 per annum in 1817, '18, and '19. He may
---
Page 308
have complained about the condition of the schoolhouse, or departed at the end of 1819, as Churchwarden Moutray had to spend £ 5-17-1 on "repairing the schoolhouse". He was hardly the anonymous Schoolmaster to whom the Wardens paid the reduced fee of two pounds for the years 1820-24. The use of the word "fee" may mean that the Vestry, not having a Schoolmaster, was paying fees to some outside teacher.
Education was not a Kerog priority. Payments to Clerk and Sexton are more conspicuous and regular on the Account Book. The Teachers' pittance looks like an afterthought. Small wonder staff didn't stay long. Whoever wrote the Parliamentary Return in 1824 pleaded "It is difficult to make the Return demanded, as the Schoolmaster was so frequendy changed. At present there are fifty scholars. The Master receives forty shillings from the Incumbent, and seven pounds a year from the Hibernian London Society, also five pounds from the scholars. The schoolhouse is repaired by the parish for ten to fifteen shillings per annum."
Someone else didn't think it fit to be called a Schoolhouse. The Diocesan Visitation Report for 1826 says:—
Parochial Schoolhouse? None. Until lately kept in a hovel near the Church, and now in the Belfry of the Church, which is large and affords ample accommodation. No fund. But it is in contemplation to build a new Schoolhouse.
The following year the House of Commons completed an Enquiry into Irish Education. The Commissioners' Report illustrates how ill-prepared were the sons of the Renaissance and Reformation to spread the enlightenment their ancestors had pioneered. And they don't seem to have patronised the schools when others were found to staff them.
Place
House & Cost
Teacher
Teacher's
Pupil's religion
Religion
Pay
C.I.
Pres.
R.C.
Ballinasagart
Thatch £5
Thomas Kirkpatrick
C. of I.
£ 16
39
18
13
Gort
Bad £3
Francis McKearney
R.C.
£ 10
0
1
30
Keady
Thatch
Thomas Bailey
C. of I.
£10 to £15
20
23
3
Ballygawley
good h.s.
John Hughes
R.C.
£ 10
9
22
Dunmoyle
Very bad £1
John McCusker
R.C.
£ 6
30
*Knockonny
Stone & clay £6
Bernard McKearney
R.C.
£14 - £16
6
27
54
Tullyglush
Stone & clay £6
John McKenna
R.C.
£10 - £13
7
21
Ballygawley
Rented £3 p. A.
Mary Holland
R.C.
£10
7
7
15
Lisawery
Bad 12/- to 20/-
Patrick Scott
R.C.
£5
9
3
6
Cullinbrone
pretty good
John Carrol
R.C.
£14
7
4
14
Brackagh
Good thatch £20 - £35
James Mullen
R.C.
£26
37
* also had 3 pupils of other denominations
---
Page 309

In 1824 the Rev. James Graham 35th Kerog Rector donated a small site where Richmount lands met the growing village, and Kerog Vestry built the school which was used until 1966. And in 1830 Joe Liggett built the two-storey school at Kerog-gate for £60.

The first Kerog schoolmaster of whom we know much was Thompson Kirkpatrick (n.c. 1796). He was almost certainly the son of that Moore Kirkpatrick who, though domiciled in Enniskillen, was sufficiently well known to Francis Kirkpatrick of Anahoe as to subscribe to the publication of the latter's "Loyalty and the Times" in 1803. The very first entry in Corry Moutray's memo book in 1821 is a Moore Kirkpatrick then a Sergeant and Tailor at the Depot Barracks, 50 City Quay, Dublin.

Thompson Kirkpatrick married Elizabeth Story, and he had 5 children baptized in Kerog 1825-38—Ellen, Moore, Rebecca, Elizabeth, and William James. He seems to have started teaching at Kerog in 1825, so it was probably he who inspired the building at Kerog-gate in 1830. From 1829-35 he rented for £15-5s the 25 acres in Collembrone later farmed by Walter Little. This is right beside Lisnawery which he gave as his address in March
---
Page 310

C.V.R. STATION
J.W. JOHNSTON R.A.F.
Padre and poet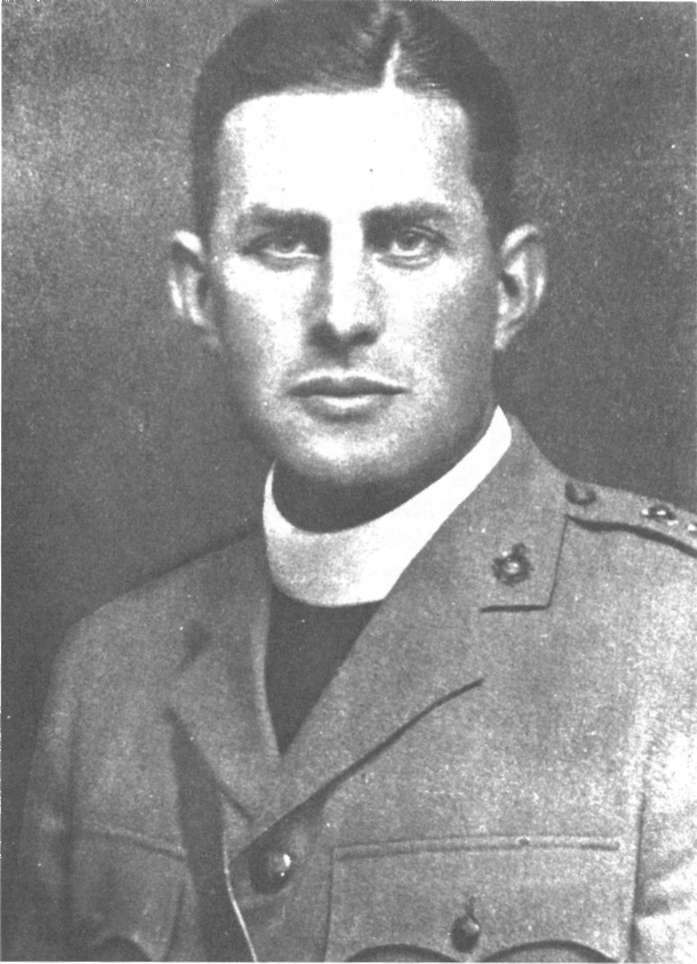 1835, and it was from Lisnawery that Moore Kirkpatrick was bur­ied on 24th Sept. 1835 aged 75.
The Kerog Wardens paid him £ 10 per annum as Parish Clerk and in the six years from 1825 he signed as witness to nine Kerog weddings. In 1827 Warden J.L Speer records "To Mr. Kilpatrick Parish Schoolmaster £1-16-11."
Two pounds was paid "To Mr. McWilliams as Schoolmaster" in 1831, and the same amount "To Mr. Lynch as Schoolmaster" in
---
Page 311
1832. Does the subsequent payment of £8 instead of the usual £10 to Kirkpatrick mean that they had taken over his classroom commitments at Kerog?
In 1833 a Samuel Armstrong got £2—apparently as Schoolmaster. He certainly filled that post in 1838 on a salary of £10. He was still Kerog Schoolmaster in 1858, but by then he was paid only £1 as Vestry Clerk, and in those 25 yrs he does not appear as witness. On 29th Aug. 1839 he married Anne Mitchell in the presence of John Armstrong and James Mitchell, and they had several children baptized in Kerog in the forties.
By 1834 Kerog Churchwardens "Paid four schoolmasters £8 per annum." These are identified in the Minute Book under date 21st April 1835 as
Samuel Armstrong in Ballinasagart
William Kilins in Roughan
Henry Girvin in Lismore
Daniel Murphy in Rarogan, who was displaced by Jane Robinson in the 1836 accounts.
By 1837 Lewis could report in his topographical dictionary Errigle Kerog has "about 700 taught in public schools of which the parochial school is chiefly supported by the Incumbent, one by Miss Montgomery and another by Mr. Leslie, and there are three private schools in which are about 180 children. One of these three taught 70 boys and 30 girls at Lisgonnel." It explains the 1819 Kerog Wardens' "rent, for a Schoolhouse in Lisgonnel." Lewis notes also "a boys' school supported by Sir Hugh Stewart and a school at Knockany together affording instruction for about 130 boys and 130 girls."
In 1840 the Rev. F. Slean started a school beside the candle factory, where in 1851 James Harvey was Master. In 1891 ex-pupils erected a stone over the remains of the most colourful educator of the 19th century—Jack Murphy of Lurganboy who was born in 1810. He was an itinerant teacher of the classics, wore a castor hat and was nicknamed "The Professor".
The decades after Waterloo undoubtedly saw an end to the centuries-old moratorium on education. The Grants Report of
---
Page 312
1838-41 notes an 1820 school in Ardnalochy where Master James Harvey taught 99 pupils in a room 17 x 13 feet with 3 windows, and an 1832 Clonally school where Felix Lynch taught 90 from books supplied by the Kildare Place Society. The 1833 school in Gort had by then 50 pupils, while the 1834 school in Glencul had 118. By then the tiny 1836 school in Rarogan had no less than 96 pupils.
Darkness Visible
The contrived anachronism of sluggish transport had aborted village industry and precipitated the haemorrhage of hundreds of energetic Kerogites to the antipodes. By 1880, Ballygawley was a ghost-town. Innovation would have been tolerated by a wiser community. But whence comes wisdom?
Luther, Calvin, and Knox liberated minds. Paradoxically, those who refused to reform showed more zeal for education in the centuries that followed. The sons of the establishment had an aversion to "book learning", possibly for the naieve reason that "the others" were promoting it. Anything "the others promoted, irrespective of its merits, like for example the thoroughly Biblical habit of kneeling to pray, was avoided by the sons of the Reformation.
Three centuries of neglect is patent in the scraps of prose, spelling, and caligraphy which survive from the eighteen twenties. Poor scholars tramping all the way to Munster for teacher-training is an historic indictment, when Ulster, after two centuries of Calvinism and Cranmerism should have been Ireland's academy!
During its 220 years from 1612 to 1832 Kerog III was as in­tellectually barren as Kerog II had been from 1390 to 1612. Nothing academic, scientific, literary or artistic emerged in five centuries. Local society seemed intellectually sterile from top to bottom, when other outbacks could produce a Charlotte Bronte and an Abe Lincoln.
Despite a massive transfusion from the home of John Knox, his zeal for education did not show up in Kerog. Reformation must be preceded by Renaissance. The heirs of the Reformation could have universalized reform by a crash program in education. This
---
Page 313
GRANGE MASONIC HALL
With Lintel Symbol, Closed 1825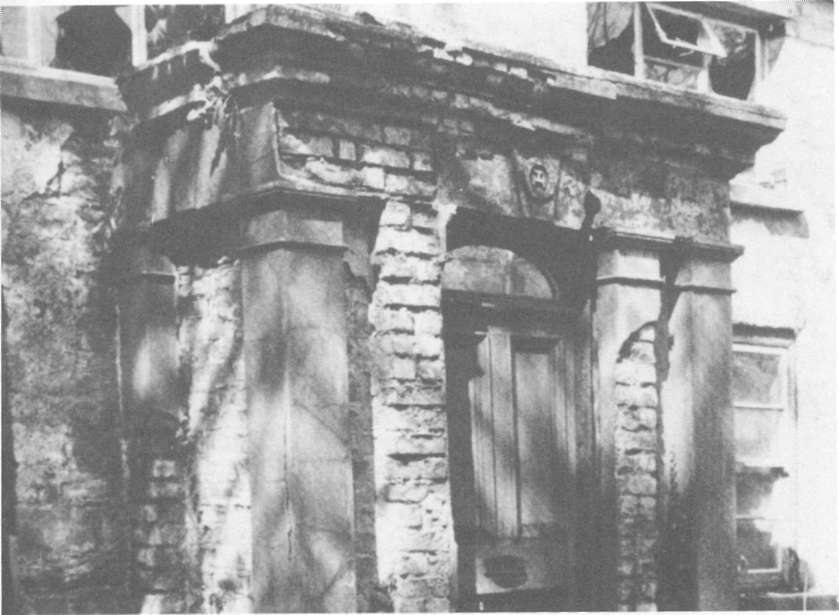 prescription was apparent, as we have seen, in the 16th century. But, 1800 was little more literate than 1500.
Masons turn Orange
Society fared no better. Even Robinson Crusoe pined for company, and found it. When the Christian Church substituted silence for fellowship, and services for service, other associations naturally emerged. The Masonic Order had three lodges in Kerog during the 37 years from 1788 to 1825.
Masonry seems to have been introduced into Kerog in 1788 by Richard Bell of Bellmount in South Grange. His lintel above Martray Lough carried the Tau symbol until the fierce winter of 1979. He may have been related to the Mrs "Malshie" Bell who occupied Anahoe House before the Crossle family arrived in 1780, and to the Bells of Legaroe, so well commemorated in Kerog's Wall of Remembrance by a Capt. Bell who incidentally grazed an American buffalo in Legaroe. Islay born Archie Bell said its bellows
---
Page 314
KEROG'S WINDSOR NAVE IS A BARRETT MEMORIAL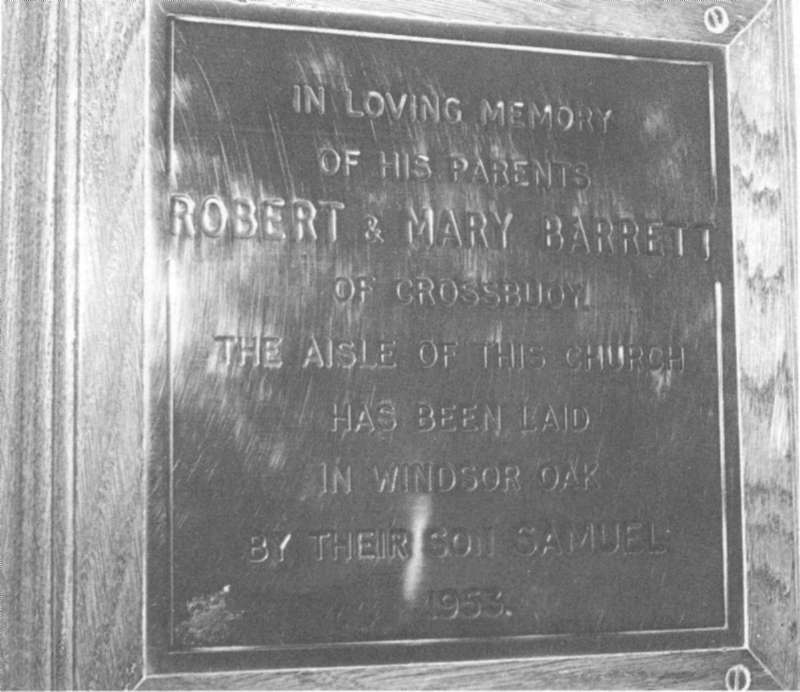 could be heard five miles away. Indeed, he may be the Richard Bell (n.c. 1732) who died in Ballylagan in 1809.
The foundation members of Kerog's 3 Masonic lodges were
| | |
| --- | --- |
| | M.L. 727 (1790-1818) Laurence Speer, John Best, Wm Kairns. |
| | M.L. 263 (1810-1825) Sam English, Andrew Caldwell, Jas Johnston. |
The last warrant was cancelled on an ominous date, the 7th July, 1825. To almost the next parish the first Orange warrant came in 1795. Emerging in post-Bastille days, the Loyal Orange Lodges were dedicated to civil and religious liberty. This popular and colourful alternative seems to have taken over Kerog's Masons within 30 years. See Map V on page 406.
They erected compact Halls on the north, south, east, and west sides of the parish, at Glenageera, Mountforrest, Ballygawley, and
---
Page 315
Roughan. In the half-century that followed they provided the only institutional liaison between the differing Protestant denominations, and consequently were the main cohesive of local support for the Union between 1886 and 1920, implementing the contention of that remarkable Drumcork Kerogite, Robert Montgomery Martin (1801-68) who has recently been so exhaustively biographied by Hong Kong Professor Frank King. Martin became H.M. Treasurer of Hong Kong. In 1833 he changed his views on Ireland, and decided that "Ireland since the Union had improved more rapidly in the elements of prosperity and social happiness than England during the same period."140 Any who read his magnum opus "Ireland as it was" in 1833 could have recollected that at the creation of the Union in 1801, another Kerogite was Attorney General for Ireland—Sir John Stewart.